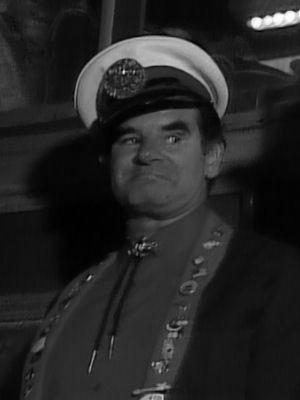 The actor
Johnny Dennis
has died.
Johnny Dennis played the bus driver Murray in the 1987 Doctor Who story
Delta and the Bannermen
.
As well as Doctor Who, Dennis appeared in television shows such as
The Bill, The Devil's Crown, The Enigma Files, Prospects, Dempsey and Makepeace, Surgical Spirit
and
Conjugal Rights
. On film, he appeared in
Billy the Kid
and the
Green Baize Vampire, The Great Escape II: The Untold Story
, and
Il giovane Toscanini
.
He had a long association with the Player's Theatre Music Hall in Leeds and took over from
Leonard Sachs
as the host of
The Good Old Days
in 1988.
Outside of entertainment, he was a keen cricketer, was affectionately known as the
Voice of Lord's
, having been the MCC's senior announcer for 18 years. It was whilst playing for Lords Taverners that he met Test Match commentator
Brian Johnston
, who recommended him for the role. When the incumbent announcer
Alan Curtis
became unavailable owing to an acting engagement in a Carry On film, Dennis took over. This led to a career spanning some 38 years and some 136 test matches. He finally retired in 2014.
The voice for The Home of Cricket