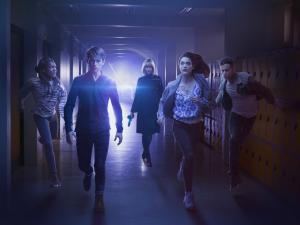 The BBC has confirmed thet the Doctor Who spin-off series will be shown on BBC One this January
The first episode can be seen on
Monday 9th January
at
10.45pm
Class has previously only been available in the UK via the BBC Three channel, which, since the 16th February this year, has only been available online.
No firm details are available for the number of viewers who have watched the series on BBC Three, but no episode has managed to make the Weekly BARB Top 50 list of downloaded programs, meaning less than around 60,000 watched the episode in the two days after release. It is believed the audience for each episode was between 20,000 and 60,000 viewers.
The BBC will be hoping for a much bigger audience for the BBC One showing, where the late night timeslot has an average of just over 2 million viewers.
The series is due to be shown on
BBC America
this spring