Saturday, 24 September 2016 - Reported by Marcus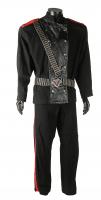 A number of props and costumes from Doctor Who are being sold as part of the
Prop Store Entertainment Memorabilia
Live Auction taking place on
September 27th
.
Items for sale include a
Resurrection of the Daleks
Shooting Running Order
signed by cast members Peter Davison, Janet Fielding, Mark Strickson, Rodney Bewes, Rula Lenska, Terry Molloy and Royce Mills and a
Vengeance On Varos
Guard Costume
.
Other lots include an
Autographed Collectors Card Set
, a
Battlefield
Special Effects Pistol and Holster
and a
Pyrotechnic Sterling Submachine Gun
first used in
Fury from the Deep
.
The auction is being held at the Odeon Imax at Waterloo in London next Tuesday.
Full details on the
Auction Website