Fantom Publishing
have comissioned four new editions of
Who Talk
, the series of independent commentaries for Doctor Who episodes.
The company has previously released commenteries for the recovered second Doctor stories
The Enemy of the World
and
The Web Of Fear
, as well as the third Doctor story
The Dæmons
and several ophaned First Doctor episodes
The first of the new commisions is the Seventh Doctor Story
Remembrance of the Daleks
.
Producer
Paul W T Ballard
explained the choice
Thanks to the strength of the first four releases and the ongoing support we receive from fans, we are thrilled to announce that we have commissioned a further four projects, the first of which is the classic Dalek tale from the twenty-fifth anniversary year.

Remembrance of the Daleks was always the top of my list, as it is not only a strong evocative story from this era of Doctor Who, but the original release gave us scope to go back and talk to those not originally featured on the commentary track.
Joining moderator
Toby Hadoke
for this release is
Pamela Salem
(Rachel),
Simon Williams
(Gilmore),
Karen Gledhill
(Allison),
Andrew Cartmel
(Script Editor), and
Andrew Morgan
(Director).
Remembrance of the Daleks opened Doctor Who's 25th-anniversary series in 1988. The release consists of six new commentaries, including alternative tracks for episodes one and three. Both the CD and download editions are now available priced £10.99 and £9.99 respectively, ahead of the trade release next month.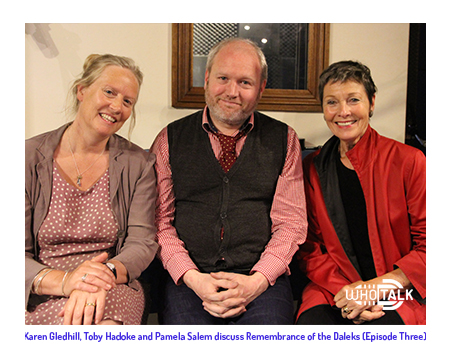 Please note: these commentaries contain no BBC copyrighted elements and do not feature audio from the episodes themselves - these are designed to be played alongside the official DVD releases.