Sunday, 14 August 2016 - Reported by Marcus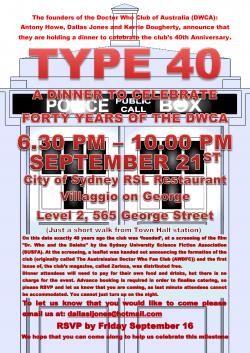 The founders of the Doctor Who Club of Australia (DWCA) have announced they will be celebrating the 40th anniversary of the founding of the club, at an event in Sydney next month.
Antony Howe
,
Dallas Jones
and
Kerrie Dougherty
, will be holding a dinner on the evening of Wednesday, September 21st, exactly 40 years since the club was founded.
This club was launched at a screening of the film
Dr. Who and the Daleks
held by the
Sydney University Science Fiction Association
(SUSFA). Fans attending the screening were given a leaflet announcing the formation of the DWCA, originally called
The Australasian Doctor Who Fan Club
, and were given a few copy of the first issue of the club's magazine, called
Zerinza
.
The anniversary dinner will be held at the
City of Sydney RSL Restaurant — Villaggio on George
. The dinner will commence at 6.30 pm and run through to 10 pm.
The only cost to attend the dinner is for the food and drinks consumed. If you wish to attend you need to contact the team at
dallasljones@hotmail.com
. You cannot just turn up on the night.
More details on
Facebook