Saturday, 14 May 2016 - Reported by Chuck Foster
It was twenty years ago today that, after some six plus years off screen, a new, feature length episode of
Doctor Who
was to make its US premiere. It introduced us to a new Doctor in
Paul McGann
, a new Master in
Eric Roberts
, a new TARDIS interior, and a whole new look and feel that the regular series had never been able to achieve.
It was also a new experience for
Doctor Who
to receive a simultaneous nationwide broadcast through the
FOX
network, something it hadn't previously been able to achieve in the country over the course of its 20+ years availablity through some commercial and many PBS-affiliated channels. With such exposure and publicity what could possibly go wrong?
In hindsight, looking at the US television "battlefield" of the time, it is perhaps easy to see why the fresh-faced "backdoor" pilot never made it into a full series: its 'mere' 8.3 million viewers only ranked it a 9% share/70th position against strong opposition on rival channels, and was considered a failure by the powers that be.
However, back then it was a also time of optimism and celebration for
Doctor Who
fans, and in this special
Moments In Time
members of the
Doctor Who News
team past and present reflect their feelings on the build-up to the
"FOX Original Movie"
on Tuesday May 14th at 8:00pm ...
Shaun Lyon
, the founder of the
Gallifrey One
convention in Los Angeles (now in its 28th year) - and editor of what is now
Doctor Who News
back when it was part of
Outpost Gallifrey
(the website he ran between 1996 and 2009) - reminisces on a time two decades past:
How quickly time flies... doesn't seem possible that it's been 20 years since the
TV Movie
/
The Enemy Within
/
the return to TV
/
call it what you will
. For a 15 year period bookended only by the fantastic efforts of Virgin Publishing, BBC Books and Big Finish Productions, it was really the apex of a very long uphill battle, and although it didn't end up moving beyond one film, it certainly changed the course of
Doctor Who
forever.
The TV Movie was the first real effort - before Davies, before Moffat, before Eccleston and Tennant and Smith and Capaldi - to modernize and broaden
Doctor Who
's appeal to the wider audience on both sides of the Atlantic. To this day, it's claimed to have been a failure... abject nonsense, its ratings in both the UK and US were respectable. Definitely a product of its time, its journey shortened out of the gate by the vagaries of American TV politics and changing viewer attitudes. But it was the event that gave us Paul McGann and Daphne Ashbrook and Yee Jee Tso and Philip Segal - people whose involvement with the Doctor Who franchise have continued to this day, part of the family as much as Tom Baker or Sylvester McCoy.
As thrilling as it was to be a fan at the time, and for our fan group here in LA to assist with the premiere at the Directors Guild of America (our convention's TARDIS was on display there, and it's the same TARDIS that was featured in the TV Guide Magazine article the week of the debut), I was honored to contribute in a very small way to the production; as noted in Segal and Gary Russell's excellent book
Regeneration
, I caught a minor goof ("a Time Lord has 12 lives" was changed to "13" at my suggestion, based on the fact that Peter Davison called himself the fourth regeneration in "The Five Doctors") during a pre-screening in Segal's office. Imagine how that felt to me to see it happen on the big screen during the DGA premiere. I'll cherish that moment forever.
And who would have thought it would continue to have an impact all these years later? You only need look at the ongoing popular
Big Finish
series with Paul McGann at the helm that run to this day... and of course, that amazing, out-of-the-blue
Night of the Doctor
special with McGann's long awaited regeneration scene into John Hurt (nobody could ever have seen that coming!) Still a bit of a controversy to this day over the whole 'half-human' thing, but definitely remaining popular just as long because of the charm McGann displayed in one 90 minute film..
If the transition from "classic" to "new"
Doctor Who
could be described as a migration from one continent to another, The TV Movie is the stepping stone on the journey... the Bering land-bridge of Doctor Who, leading a wandering series into its new horizons forever. We're so lucky it happened the way it did, and it'll still bear fruit for many years in the future.
Steven Warren Hill
, who took over the legacy of
Outpost Gallifrey
's forum with
Gallifrey Base
in 2009, reflects:
My friend Dennis hosted a viewing at his place for all of us longtime Doctor Who fans. I remember setting at least two VCRs at home to record the movie, and bringing a third VCR with me so I could be in control of at least one of the recordings. There were probably about ten of us there, and we all went quiet as the movie started. I don't know about the others, but I had tears in my eyes after the intensity of the operating room scene. Sure, we'd seen the Doctor "die" before but this time it was scarily real and quite affecting. When I got home that night, I had to watch again from the start to the end of that scene before I could go to bed.

Recently I devoted a lot of time writing the portion of the forthcoming book Red White and Who: The Story of Doctor Who in America that talks about the movie. I believe we've gone into greater detail than ever before in analyzing why it failed to get decent ratings in the United States. It was interesting researching the topic, and dredging up memories of things like long-forgotten promotional spots (on both television and radio). In hindsight, its place in the grand scheme of everything Doctor Who couldn't be more perfect - many of us desperately wanted a new series to come out of it, but if that had happened, how long could it possibly last? It turns out that the one-off was exactly what we needed, even if we didn't think so at the time. If it had gone to series then, we might not have a series now.

Longtime fan and sometime Doctor Who News contributor
Josiah Rowe
remembers:
You have to remember that in those days
Doctor Who
was largely unknown in the US. If people had even heard of it, they knew it as "that weird British thing on PBS". But in spring of 1996, things were suddenly different. There was a story in the
Washington Post
! There was an article in
TV Guide
! (No cover, of course; that wouldn't happen until
2012
.) It's nothing compared with the ubiquity of
Doctor Who
today, but at the time it seemed revolutionary.
I set my VCR to record from 8:00 to 10:00 PM on the local FOX station, and watched eagerly. I grinned at every continuity reference, from the Daleks (who did not sound as high-pitched on American broadcast as they did in the UK and on the eventual DVD release) to the Doctor's toolbox (lovingly recreated from the 1983
Doctor Who Technical Manual
). I looked askance at the half-human business, but had no problem with the kissing — unlike many fans at the time!
The TV movie is now seen as a false start for bringing
Doctor Who
back to TV, but for all its flaws it's gorgeously shot and brought us the marvelously exuberant Eighth Doctor. And it showed that
Doctor Who
could be more than a quaint little shot-on-video series, beloved by a few but ignored by most.
Jarrod Cooper
, organiser of the
Hurricane Who
conventions that take place in Orlando, Florida, recalls:
The Wilderness Years were a sad and lonely time for a Doctor Who fan in a small town in South Alabama. The local comic shop only received one copy of Doctor Who Magazine and the local used book shop had to special order the Virgin New Adventures and Target books, for why would they actually stock those? But that was it. The local PBS affiliate had ceased airing the show shortly after the end of the Classic Series' run. It was a dark time indeed. But then, there were rumblings in DWM that there was a movie coming. Possibly a series.

I still remember the moment that the TV Movie excitement hit me full force. It was the moment that I saw the first insert in TV Guide for the movie. It was simple, no more than a quarter of a page basically teasing that there would be more information in the following issue. But it was there, in the main TV listings magazine. I don't know why, but for some reason seeing that in print in TV Guide made it real. Doctor Who was returning.

On that May night, I sat with my VCR ready and an open mind. The pre-credits rolled and there was everything that I had been missing. The TARDIS. A new Doctor. The Master. The Sonic Screwdriver. Who cared if I was missing Roseanne?? So what if the Master can now be held at bay by a fire extinguisher and the Eye of Harmony is now a weird room in the TARDIS? For two hours I sat transfixed.

Little did we know what seeds were being planted that night. I was blissfully unaware of the years of novel and audio adventures that were in store for me alongside this Doctor. All I knew was for that one night, we had a light in the dark. Our show was back, and it was about time.

Benjamin Francis Elliott
, the previous 'incarnation' of
This Week in Doctor Who
, explains his own regenerative experience:
I knew the movie was coming because I'd seen a copy of DWM (and I never came across DWM back then). Plus, it was in the TV Guide. I was looking forward to it. My family was (they all liked Tom Baker and Peter Davison). Then - May 14 - catastrophe ...

My parents found a college scholarship that I'd be a shoo-in for - due May 15th, and insisted I fill it out before I could see the movie. Did I mention the form required you to type it up on a typewriter? So, the movie begins, and the whole family (except me) is watching live. I finished the form and got to join in - right after the regeneration. Odd way to start the film. we got it on VHS, so I saw the McCoy section the next day. It was the last Doctor Who (and maybe the last piece of TV) I saw before going onto the internet for the first time. The last time before I encountered fandom. The Internet has strengths and weaknesses. I certainly didn't get spoiled on plot points without it.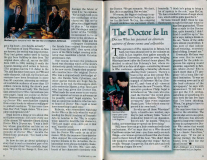 TV Guide article on the TV Movie. 11th May 1996.
Reproduced with thanks to the
Gallifreyan Embassy/Doctor Who: Podshock
Extract from the
Washington Post
, 14th May 1996:
He has two hearts and 13 lives, he flits around the galaxy in a flying phone booth and he's half-human on his mother's side. Who is he? Exactly. He is Who -- Doctor Who, hero of a BBC fantasy series that first materialized in 1963, ran for 20 years and was imported by many public TV stations here.
Doctor Who is a man whose time has come and keeps coming; now the Fox network is trying to revive him for a new series, starting with a two-hour movie pilot, "Doctor Who," tonight at 8 on Channel 5. As opposed to the old BBC show, a basically tacky-looking thing shot in a TV studio, the new movie, filmed mostly in British Columbia, is splashy and spectacular, with a certain Jules Verney quality to it.
It's certainly got more wit and zip than most of the things that go thunk in the night on Fox.
...
The plot may sound ridiculously complicated, but it all pretty much boils down to the perpetual war between good and evil. Matthew Jacobs's script has lots of bright, fetching touches, and director Geoffrey Sax keeps things whirling so speedily that disbelief is easily suspended. Some of the special effects and editing tricks are true dazzlers.
Daffy though it be, "Doctor Who" dabbles in matters of time, space and mortality in ways that aren't completely superficial. The Doctor's goal, he says, is "to hold back death," and if Who doesn't do it, who will?
---
What is often forgotten in the mists of time, however, is that the television movie was produced in Vancouver, Canada, and even had its world premiere broadcast by
CITV
on Sunday 12th May.
Mike Doran
, a Canadian fan with a keen interest in the history of
Doctor Who
in the country, relates:
The return of Doctor Who in 1996 was so different than in 2003-05. Paul McGann was already on location in Vancouver before his casting and the production was officially announced. A co-produced American series/movie had been in development for years but it was finally happening and it was being made in Canada. What's more we'd only have to wait for four months until it aired. Even then here were location reports and pictures being posted on-line as production took place. I later found out that the house of a friend in Kits Beach was scouted to be the home of Dr. Grace Holloway. Right around the corner from Hadden Park where the Doctor and Grace would kiss.

Doctor Who on the cover.

When the day came a group of us gathered at the house of a friend to watch the movie together. The funny part was that the host wasn't even a Doctor Who fan and he didn't live somewhere convenient to get to, he just had the biggest and nicest TV of anybody we knew. I brought a VCR with me so I could meticulously edit out the ads as we watched. At home a second VCR rolled for a back-up copy with ads intact. When it was over the consensus in the room was that McGann was great, the movie itself average. We wanted to see more but as the months passed it was clear that we wouldn't. By the time 2003 rolled around I'd come around to being happy about that.

Just under a fortnight later,
Doctor Who
was to make a return to its ancestral home - but how would fans there find the fresh interpretation of a very British legacy ...