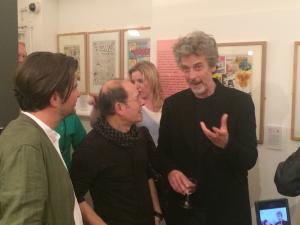 An exhibition showcasing original cover artwork from the Target range of Doctor Who novels has opened in London.
The display, at the
Cartoon Museum
in Bloomsbury features 30 pieces of art, which were commissioned for the cover illustrations of Doctor Who novelisations, published during the 1970's and 1980's under the Target imprint
it includes ten covers by
Chris Achilleos
from The Daleks through to Revenge of the Cybermen, five covers by
Andrew Skilleter
from Destiny of the Daleksthrough to The Mark of the Rani and other classic and well-loved original cover artwork such by
Roy Knipe, Jeff Cummins,
and
David McAlister.
The launch was attended by several of the artists featured as well as Doctor Who show runner
Steven Moffat
and the current doctor,
Peter Capaldi,
no mean artist himself.
The exhibition was the brainchild of Doctor Who brand manager
Edward Russell,
who told Doctor Who News he was delighted by the response to the display of the artwork.
The exhibition runs until Sunday 15th May.