Friday, 22 January 2016 - Reported by Marcus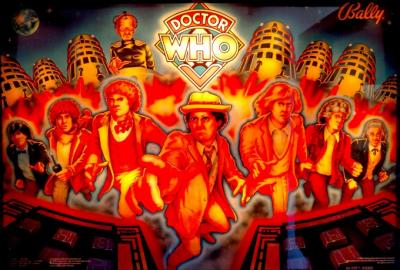 A kickstarter project has been launched to help recreate the 1990's
Doctor Who Pinball Table
in digital form.
FarSight Studios are looking to add the famous 1992 Doctor Who Pinball Table to their successful Pinball Arcade game for Consoles and Mobile devices.
The independent developer has over 25 years of experience, developing video games on consoles, phones and tablets. For the last ten years, the company has been developing modern videogame recreations of classic pinball tables. The Pinball Arcade is currently available on a wide variety of platforms: the iPhone, iPad, Android, Kindle Fire, Ouya, Xbox 360, Xbox One, PlayStation 3, Play Station 4, PS Vita and Steam for PC and Mac, with the Nintendo Wii U version being released very soon.
The Doctor Who pinball table was originally released by Williams/Bally in 1992. It is considered one of the best designed licensed tables in pinball history. The gameplay is based around the various seven incarnations of the Doctor and each Doctor affects the rules of the playfield differently. The player must "collect" all Doctors throughout the game. After collecting a Doctor, rule changes are applied.
The Kickstarter project will allow the developers to secure the licences for the Doctor Who game, a cost of $72,000 or around £50,000. The development costs will then be met by FarSight Studios.
The process of digitizing these tables is very complex. We first acquire the actual physical pinball table we want to digitize. We want our videogame version to play exactly the same as the table played when it was new. We strip the table down to the bare wood playfield and take high-resolution digital photographs of every part. We use these to create three-dimensional computer models of each of the components on the playfield. When the modeling is complete we export the data into our graphics engine, which displays the table on each of our target platforms.
Previous projects have raised money to recreate games based on
The Addams Family
,
Twilight Zone
,
Star Trek: The Next Generation
and
Terminator 2: Judgement Day
For full details see the projects
Kickstarter page
.