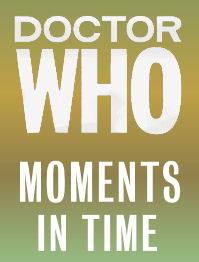 It was on Saturday
4th December 1965
, exactly fifty years ago today, that Katarina sacrificed her life to save the Doctor, and became the first companion to die as a result of their travels with the Doctor.
It had been a very short stay in the TARDIS for the character, who only joined the team four weeks previously. Katarina had been a handmaiden of the prophetess Cassandra in the ancient city of Troy, when she met the Doctor. The character was intended as a replacement for Vicki, however it was soon realised that Katarina was so uneducated, so naive, that it was almost impossible to write for the character.
The decision was taken therefore, to write her out in the most spectacular way possible, and Katarina was destined to die in an airlock, sacrificing her life to stop the Doctor being blackmailed, and forced to return to the Daleks.
The character of Katarina was played by Devon born actress
Adrienne Hill
, in her first role for Television.
In 1986 she gave an interview to Doctor Who Magazine and talked about what it was like to join the series
I had lunch with Maureen O'Brien and Peter Purves and they told me to expect the tight schedule and how to cope with Bill Hartnell. He was nice to me as I told him that this was my first television work and he took me under his wing to guide me. You really had to be on your toes with him, though, because he would often forget his lines and we couldn't re-shoot things.
Hill also described filming her departure
My death was done on a trampoline, with the camera below us. I was jumping up and down to give the impression I was floating away through space. I was terribly proud of that.
Following her appearance in Doctor Who, Hill acted in several small roles, before moving to the Netherlands, and then America. She later returned to England where she retrained to be a drama teacher.
In 1985 she appeared alongside many other Doctor Who actors in the BBC Children in Need programme.
Adrienne Hill died of Cancer in 1997 at the age of 60.