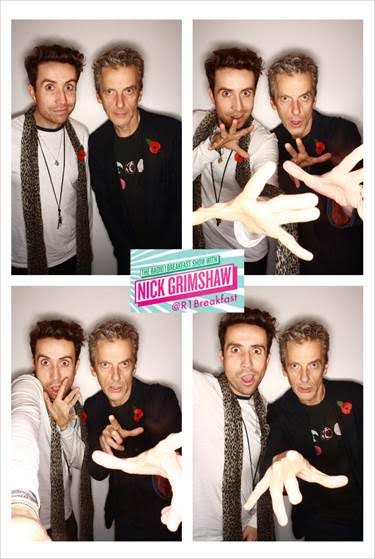 Peter Capaldi
today talked to
The Radio 1 Breakfast Show
with
Nick Grimshaw
about Jenna Coleman's unexpected last Doctor Who scene and
Maisie Williams
teasing him with Game of Thrones spoilers.
Capaldi talked about the international success of the show and how much he is enjoying the role.
You wake up in the morning and think I'm going to blow up some Daleks...It's just a gas. How could you not like that.
He spoke about working with
Jenna Coleman
and how it was filming her departure from the series.
It was really sad. She's great fun and just wonderful to work with. I've had a great time with her...She was fabulous in her last scene. It is very clever what happens in it, but very sad. Really sad. Get lots of hankies ready.
Caplaidi also talked about working with Game of Thrones star
Maisie Williams
, confirming the character will return in episode 10 of the current series.
She's just such a laugh. She keeps teaching me new words because she thinks I'm a really ancient old guy. She's great to have around.
An upcoming episode features just Capaldi as the Doctor, with no other characters in the story.
Because its just you, you work much more closely with the rest of the crew. It makes you realise how much you bounce off other actors. It's a really strange episode but I don't want to give anything away.
Peter Capalid was also asked about the future of the Sonic Glasses and whether the Sonic Screwdriver would be back.
I think those fans of the sonic screwdriver should not fret. Fear not. Don't lose any sleep. But I do like the shades.
You can listen to the whole interview on the
BBC iPlayer
(from 02:23:46 in)