The BBC have released a new synopsis and publicity image for the forthcoming
Christmas Special
, which stars
Peter Capaldi
as the Doctor with
Alex Kingston
as River Song, and also features
Greg Davies
as King Hydroflax and
Matt Lucas
as Nardole.
Previous images:
It's Christmas Day on a remote human colony and the Doctor is hiding from Christmas Carols and Comedy Antlers. But when a crashed spaceship calls upon the Doctor for help, he finds himself recruited into River Song's squad and hurled into a fast and frantic chase across the galaxy. King Hydroflax is furious, and his giant Robot bodyguard is out of control and coming for them all! Will Nardole survive? And when will River Song work out who the Doctor is?

All will be revealed on a starliner full of galactic super-villains and a destination the Doctor has been avoiding for a very long time.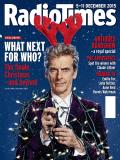 The new edition of the
Radio Times
, published today, features an
interview with writer Steven Moffat
, during which he confirms where in River's convoluted timeline this meeting takes place:
The Radio Times website has also
revealed
that the now traditional
Doctor Who
cover for the Christmas period will be on the issue dated 5th-11th December, covering both the special and this year's series finale,
Hell Bent
. It is due to be published on the earlier date of 28th November as editions begin to roll out for the festive season.
---
The Christmas Special is (of course) due to be broadcast on BBC One on Christmas Day, but the first channel to confirm exactly when they will broadcast the episode is
FOX
in Germany, whose schedules show that it is due to air there on Thursday 28th January at 9:00pm! This is later than in recent years (where the episode has aired on or close to the same day as the UK) owing to a delay in being able to dub the episodes into German.
Though no other regions have confirmed when they will show the episode as yet, last year's special,
Last Christmas
, was broadcast in over thirty countries within 24 hours of the UK premiere!