Thursday, 5 November 2015 - Reported by Chuck Foster
The BBC have launched the
BBC Store
, a new online "shop" aiming to open up a wealth of archive material, both old and new, to viewers in the United Kingdom to "buy and keep" digitally.
Marcus Arthur
, MD of BBC Worldwide & ANZ, said:
We want BBC Store to do for digital ownership what BBC iPlayer did for catch up. BBC Store makes digital ownership really easy for audiences and means that we can begin opening up the incredible BBC television archive.

Bal Samra
, Commercial Director of the BBC said:
BBC Store will make more of the treasure trove of BBC programmes available than ever before. This is a result of a collaborative partnership that the BBC has led, bringing together the whole of the creative industry and BBC Worldwide, and which will establish a route to sustainable commercial returns to more of the sector.

Dan Taylor-Watt
, Head of BBC iPlayer said:
The launch of BBC Store coincides with a significant milestone in the evolution of BBC iPlayer: the addition of 'Places to buy' links, enabling users to discover programmes to buy and keep and to watch BBC Store purchases back on iPlayer.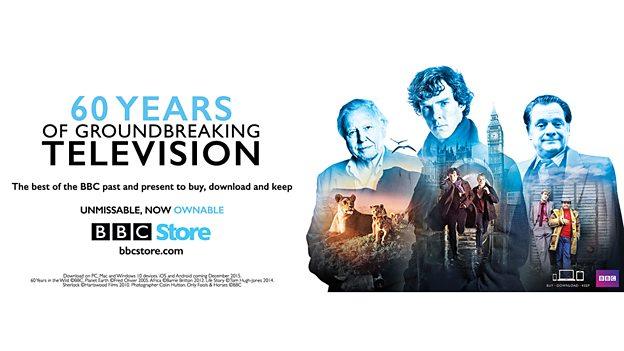 For
Doctor Who
the launch makes all nine series of the modern era available to purchase, either as each complete series or individual episodes (with the current series being added to as they are broadcast). The animated adventure
The Infinite Quest
is also available for purchase. For the 'classic' era there are currently an "editorial selection" available to represent each Doctor:
First Doctor: The Edge of Destruction, The Aztecs, The Sensorites, Planet of Giants, The Rescue, The Web Planet, The Space Museum, The Ark, The Gunfighters, and The War Machines (The Daleks can also be found in the Search)
Second Doctor: The Underwater Menace, The Tomb of the Cybermen, The Enemy of the World, The Krotons, The Seeds of Death
Third Doctor: all, barring Day of the Daleks, and Planet of the Daleks (Inferno and Death to the Daleks can also be found in the Search)
Fourth Doctor: all, barring Terror of the Zygons, The Android Invasion, The Seeds of Doom, Destiny of the Daleks, and City of Death
Fifth Doctor: all, barring Enlightenment, The Five Doctors, and Resurrection of the Daleks
Sixth Doctor: The Twin Dilemma and The Two Doctors only
Seventh Doctor: all, barring Paradise Towers and Remembrance of the Daleks
Eighth Doctor: the TV Movie is currently unavailable
For factual programming, you can also find the 50th anniversary documentary
The Ultimate Guide
and the three programmes that made up
Doctor Who's Greatest Moments
; the 50th anniversary drama
An Adventure in Space and Time
is also listed. For the spin-off series,
Torchwood
has Series One,
Children of Earth
and
Miracle Day
(but not Series Two!), whilst none of
The Sarah Jane Adventures
are currently available.
Prices can range from £1.89 for single episodes through to £21.99 for Series Nine.