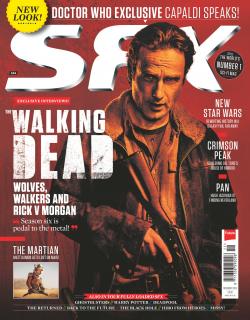 The new edition of SFX magazine celebrates the return of
Doctor Who
to television with a four-page feature with
Peter Capaldi
.
Having become very much a part of the show's heritage, he reflects on how he now feels viewing old episodes he's loved throughout his life:
As a professional actor I have the greatest of respect – and growing respect – for anybody who ever did anything in Doctor Who, because the actual day to day reality of it.. You know, the Zygons are magnifi cent, but sometimes a what it should be, or a set is not quite as cosmic as you had hoped. And of course with us, the level of sophistication that huge compared to some periods in the show's history. But that's an actor's job. You come in and you give it everything you've got.

And on which other Doctor he would like his Doctor to share a story with?
William Hartnell! I think he'd be really annoyed by William Hartnell. He'd love him, just the same, but I think he'd be really impatient with him. Because he's grumpy, and he's probably a bit grumpy as well. He'd want him to loosen up a bit. And also because William Hartnell's the father. He's the original Doctor Who!

You can read the full interview, including his thoughts on the 'other Doctor'
Peter Cushing
, in the latest issue of SFX, published Wednesday.