Wednesday, 9 September 2015 - Reported by Chuck Foster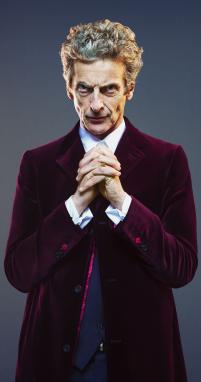 The BBC have finally
confirmed
the time when the new series of
Doctor Who
will have its world premiere television broadcast, with
The Magician's Apprentice
showing on
BBC One
on
Saturday 19th September
at
7:40pm
. The episode has a scheduled length of 50 minutes. The evening lineup has yet to be finalised, but it is expected that the episode will be preceded by an edition of
Pointless Celebrities
and then followed by
The National Lottery: In It To Win It
. Details of whether
Doctor Who
will precede or follow BBC One's annual Autumn dance extravaganza
Strictly Come Dancing
- which kicks off the following weekend - should be confirmed next week.
In New Zealand, PRIME have also confirmed the broadcast time for
The Magician's Apprentice
, which will be shown prime-time Sunday evening at
7:30pm
. This means that those in the islands will get to see the episode narrowly ahead of those in 'nearby' Australia, who see it around two hours later (though the latter's broadcaster ABC will make it available online via
their iView service
earlier in the morning!). This is the first time since the series returned in 2005 that New Zealand viewers will be able to watch a regular series episode of
Doctor Who
within a day of its UK premiere.
The Magician's Apprentice: Known Broadcast Details
United Kingdom
BBC One
Sat 19 Sep 2015
7:40pm
United States of America
BBC America
Sat 19 Sep 2015
9:00pm EDT
(2:00am BST)
Canada
SPACE
Sat 19 Sep 2015
9:00pm EDT
(2:00am BST)
Asia Pacific
BBC Entertainment
Sun 20 Sep 2015
10:00am SGT
(3:00am BST)
New Zealand
PRIME
20 Sep 2015
7:30pm NZST
(8:30am BST)
Australia
ABC
Sun 20 Sep 2015
7:42pm AEST
(10:40am BST)
Europe (Benelux)
BBC First
Tue 22 Sep 2015
9:00pm CEST
Finland
YLE2
Mon 28 Sep 2015
6:00pm EEST
South Africa
BBC First
Sat 24 Oct 2015
6:00pm SAST
India
FX
"coming soon in 2015"
date tbc
Germany
FOX
December 2015
date tbc
(dubbed into German)
Italy
RAI4
Early 2016
date tbc
(dubbed into Italian)