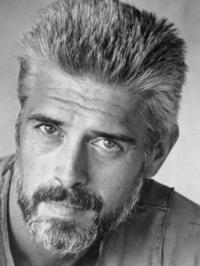 The actor
Nigel Terry
has died at the age of 69.
Nigel Terry played
General Cobb
in the 2008 Tenth Doctor story
The Doctor's Daughter
.
Terry has a long career both on stage and screen and worked extensively for both the
National Theatre
and the
Royal Shakespeare Company
.
He is best known for playing King Arthur in John Boorman's 1981 film
Excalibur
. Other movie roles include playing Prince John in Anthony Harvey's
The Lion in Winter
and playing the title role of
Caravaggio
in the Derek Jarman film. On television he appeared in
Agatha Christie's Marple, MI-5, Foyle's War, Holby City, Mortimer's Law, Resort to Murder, Highlander, The Orchid House, Ruth Rendell Mysteries, Denys Villiers, The Merry Wives of Windsor, Sherlock Holmes
and
Kenilworth
.
Nigel Terry died last Thursday after contracting emphysema.