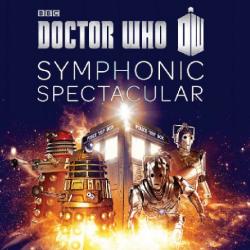 BBC Worldwide North America has announced the
Doctor Who Symphonic Spectacular
is coming to New York later this year.
The a live show, which sold out when it premiered in Australia, and is touring the UK this spring, will be staged for the first time in the U.S. at
Barclays Center
in Brooklyn, New York on
Wednesday October 7, 2015
. The event, produced and presented by
Vision Nine
, will be one of the headline events of
New York Super Week
, which takes over the city October 5-11 in the lead-up to the main event
New York Comic Con
, taking place October 8-11 at the Javits Center.
The show will be hosted by actor
Michelle Gomez
who portrays Missy, the latest incarnation of the Doctor's arch-nemesis the Master. She first appeared on-screen in 2014 and returns to Doctor Who in the new season scheduled to air on worldwide this autumn.
Michelle Gomez comments
I was a big fan of Doctor Who before I joined the cast, and I love Murray Gold's powerful and emotional soundtracks for the series. This live show has been a big hit with fans of the series in other countries, and I know that Doctor Who fans in North America have been waiting for their turn to see it. I'm so excited to be presenting the first-ever American performances, and to be doing this in the city that has become my home. I can't wait 'til this fall to see how the amazing U.S. audience reacts to the show being staged in the Big Apple. I'm honored to be a part of it.
The Doctor Who Symphonic Spectacular, which celebrates the world's longest running science fiction TV series, features the captivating and award-winning music of
Murray Gold
who has composed for the series since 2005. The show will feature over 100 musicians and singers under the conducting baton of
Ben Foster
(conductor, The Theory of Everything). Fans can expect to see some of the Doctor's most fearsome adversaries live on stage including Daleks, Cybermen, Judoon, Whispermen, and more. The live performance will be accompanied by a big screen presentation of key moments and specially edited sequences from the past decade of Doctor Who.
Tickets will go on general sale via the venue box office and website at 10am on Friday, May 8, 2015, with prices starting at
$50.50
per ticket.