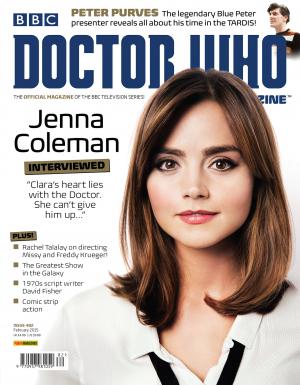 The new issue of
Doctor Who Magazine
is published this week, and features an interview with
Jenna Coleman
, during which she discusses the loves and lives of Clara Oswald:
DWM asks Jenna if the Doctor and Clara can finally move on in their relationship – and after the sacrifice of Danny Pink, can things ever be the same again? "I think so," Jenna says. "But they are a bit addicted to each other, and to the dynamic that they share. It's getting so that one can't go without the other, and I think that's definitely what Clara's realised. In a way that's quite dangerous now, because she realises that there is no going back for her..."

Also inside this issue:
Rachel Talalay, director of the 2014 series finale two-part finale, reveals the secrets of how Death in Heaven was brought to the screen.
Peter Purves, who starred as companion Steven Taylor in the 1960s, talks in-depth about his time on Doctor Who.
Discover fascinating new facts about the acclaimed seventh Doctor story The Greatest Show in Galaxy in The Fact of Fiction.
Doctor Who showrunner Steven Moffat answers readers' questions – including the knotty problem of the Doctor's many wives! – in his exclusive column.
Writer David Fisher, who wrote three memorable stories for the fourth Doctor in the 1970s, revisits his work.
The Doctor and Clara face Sontarans and Nazis as The Instruments of War continues, a brand-new comic strip written and illustrated by Mike Collins.
Sarah Jane and the Brigadier are reunited, as the Time Team watch The Sarah Jane Adventures: Enemy of the Bane.
Jaqueline Rayner wonders how the Doctor's companions would get on in the Cubs in Relative Dimensions.
Last Christmas is put under the spotlight in The DWM Review.
The Watcher considers the many surprising ways that Doctor Who stories can change from script to screen in Wotcha!.
The Watcher gives the answers to his Fiendishly Festive Christmas Quiz! How well did you do?
Have your say on Peter Capaldi's first series as the Doctor in the DWM Season Survey.
Plus the DWM Crossword, prize-winning competitions, and much more!