Sunday, 11 January 2015 - Reported by Marcus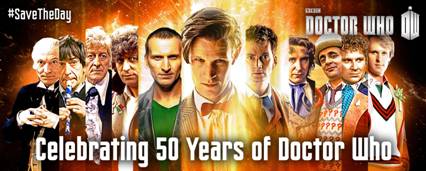 Monday marks the
50th Anniversary
of the first screening of
Doctor Who
in Australia.
Although New Zealand first saw the series in September 1964, the series didn't reach Australia until 1965. The series had been purchased from the BBC in March 1964 and initially planned for premiere in May. However the Australian Film Censorship Board (AFCB) classified the series' first thirteen episodes 'A', meaning they were only suitable for an adult audience, thus preventing the ABC from showing the series in the 6:30pm Sunday timeslot they'd intended to use.
The series was therefore first screened in
Perth
, capital of Western Australia, by ABC station, ABW-2 on
Tuesday 12 January 1965
.
It was the days before satellite links, so the 16mm film print of the story had to be flown around the country for broadcasts to the different states.
Sydney
was the second city to screen the series, three days later on January 15th along with various New South Wales Country stations and the Australian Capital Territory. This was followed by screenings on 22nd January for
Brisbane
and
Toowoomba
in Queensland. The series reached Victoria on 20th February when
Melbourne
and various Victorian country stations screened the series. On the 4th March it was back in Queensland in
Townsville
before flying South to
Adelaide
where it was screened on 15th March. On the 18th March it was transmitted from
Rockhampton
before crossing the Bass Strait for broadcast on 11th June to viewers in
Hobart
and
Launceston
.
Many ABC stations had not been opened by January 1965, 10 opened in 1965 and a further 14 in 1966. The staggered launch dates of the stations that opened after 1965 meant that viewers in the country were introduced to Doctor Who well into the run, and often part way through a story. Some areas did not even have an ABC transmitter, so missed out altogether.
Thanks to Antony Howe - Founder and 1st President, Australasian Doctor Who Fan Club, 1976 and Dallas Jones - 2nd President and currently Vice President of Doctor Who Club of Australia.