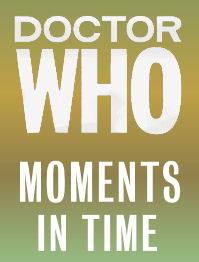 It was on Saturday
26th December 1964
, fifty years ago today, that we said goodbye to the first regular to leave Doctor Who, with the departure of
Carole Ann Ford
from the series.
When 12.4 million viewers saw Susan fall in love with freedom fighter David Campbell and the Doctor lock the TARDIS doors so she wouldn't have to choose between her grandfather and her new love, it was the end of an era for the Doctor and his granddaughter. For the programme
Doctor Who
it was a major milestone, with one of the quartet of actors to have created the series moving on to new challenges, and leaving a sizable hole in the tight-knit team.
Carole Ann Ford was an experienced character actress when she joined
Doctor Who
. She first appeared in a film at the age of eight. After appearing in a number of commercials and walk-on work, her first proper role was in the play
Women of the Streets
. She had appeared in the TV Movie
Expresso Bongo
and had roles in
Horrors of the Black Museum
,
Probation Officer
,
The Ghost Train Murder
,
Emergency-Ward 10
,
Dixon of Dock Green
,
No Hiding Place
,
Crying Down the Lane
,
The Day of the Triffids
,
Mix Me a Person
,
Harpers West One
,
The Punch and Judy Man
and
Z-Cars.
It was that role in
Z-Cars
which led to her being cast as Susan, a role originally envisaged, and pitched to Ford, as a much more alien character than that which eventually emerged. It is well known that the changes to the proposed role frustrated Ford. In 2013 she talked to The Daily Telegraph:
I was a very good dancer and had been an acrobat. They told me Susan was going to be an Avengers-type girl – with all the kapow of that – plus she would have telepathetic powers. She was going to be able to fly the Tardis as well as her grandfather and have the most extraordinary wardrobe. None of that happened.
The role of Susan had been toned down on the instructions of the Head of Drama,
Sydney Newman
, who wanted the character to be much more ordinary, a character that a teenager in the 1960's could relate to.
Carole Ann Ford decided to leave the series at the end of the first year of production. She completed her last studio recording on Friday 23 October in Riverside Studio 1. Following the recording she sent a note to the BBC Head of Drama, Sydney Newman, thanking him for allowing her to appear in the series. He replied the following week
Memo - Sydney Newman - 28 October 1964

Are you kidding - expressing your appreciation for appearing in Doctor Who! Fact is, we are greatly indebted to you. You have done a fine job for us in the BBC and we are deeply appreciative of your work.

May I wish you the very best of luck in your future career, and hope to see you time and time again on the BBC screen in roles other than that of the 'waif from outer space' (what a title!)
Following her departure from the series Carole Ann Ford had a couple of small roles in British Television. However as a key member of one of the most successful series in the BBC repertoire, seen by up to twelve million viewers each week, Ford found herself typecast. She told the Daily Telegraph
I was incredibly annoyed because I wanted to do more television and films and the only thing that people could ever see me in was a recreation of what I had done. A Susan clone. Some kind of weird teenager. I wanted to do work that would disconnect me from Doctor Who. That is a very difficult thing to accomplish, as many other actors who have played the companions have found out.
In 1965 she played a prostitute, Jenny Graham, in an episode of
Public Eye
, the long-running British TV series starring Alfred Burke, but received complaints from parents expecting the role to be a copy of Susan. In 1974 She played Valerie in an episode of the comedy
Whatever Happened to the Likely Lads?
.
Ford was taken ill in 1977 when a mistreatment for a back injury caused her to become hyper allergic. She nearly died in Spain when an aspirin caused anaphylactic shock. Her weight plummeted to just five stone (70lb) and she lost her voice.
To help her recover Ford undertook voice coaching which led to a new career as a vocal adviser for actors, politicians and business leaders. In 1983 she well enough to return to the role of Susan when she was offered a part in the Doctor Who Twentieth Anniversary special
The Five Doctors
. She was still very possessive of the role, insisting the script was changed when she was initially asked to refer to
The Doctor
rather than
Grandfather
.
Carole Ann Ford now lives in North London. She has reprised the role of Susan in a number of Doctor Who audio plays by
Big Finish Productions
. In 2013 she appeared in a cameo role in the BBC Two docu-drama about the creation of Doctor Who,
An Adventure in Space and Time
, a play where Ford herself was played by Claudia Grant.
She still holds great affection for the series she left fifty years ago, the show she helped to create.
I wish William Hartnell was here to share in all this. Even before we started he said, 'This is going to go on for ever.' He was right, bless him. He loved it so much.
Goodbye Susan 
Susan has fallen in love with resistance fighter David Campbell, and the Doctor decides to leave her on Earth to find a new life with him, bidding her a fond but firm farewell
SOURCES:
The Handbook: The First Doctor – The William Hartnell Years: 1963-1966, David J Howe, Mark Stammers, Stephen James Walker (Doctor Who Books, 1994);
Daily Telegraph
7th April 2013