Friday, 24 October 2014 - Reported by Marcus
The BBC has announced a special fan event, held in London and hosted by
Frank Skinner
, will take place on
Monday 17th November
, to mark the release of the Series 8 DVD and Blu-ray set.
This will be the first chance the cast have had to reflect on the conclusion of
Peter Capaldi
's debut series as the Doctor, in front of 140 lucky fans at a central London location.
BBC Worldwide is offering 70 pairs of tickets for this exclusive event. Fans will be treated to a special screening followed by a Q&A with members of the cast. All they need to do is visit
doctorwho.tv
and correctly answer the multiple choice question, when they will subsequently be entered into a prize draw. The competition is now open and will close at 23.59 on Wednesday 29th October. Winners will be selected at random and will be notified within seven days of the closing date. Unsuccessful applicants will not be contacted. Fans should only enter if they can travel to London for the afternoon of the 17th November. The event venue will be disclosed to winners on their invitation closer to the time.
Frank Skinner commented
When they asked me to host this event I was over the moon. Luckily the space-dragon incubation period is such that I was in no real danger. I have so many questions I want to ask and, when we're all talked out, I'm planning to finish off by crowd-surfing for 10 to 15 minutes, dressed as Chief Engineer Perkins.
This event continues BBC Worldwide's celebration of a new Doctor in the world's longest running sci-fi series. Earlier this year,
Peter Capaldi
and
Jenna Coleman
traveled the globe visiting Doctor Who fans in Seoul, Sydney, New York City, Mexico City and Rio de Janeiro and today the interactive and immersive attraction in Cardiff Bay –
The Doctor Who Experience
– will reopen with an updated adventure featuring the Twelfth Doctor.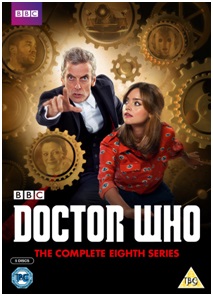 The DVD and Blu-ray release of The Complete Eighth Series sees the Doctor and Clara encounter previously unimaginable wonders and horrors... The time travellers meet a fleet of Daleks as they attempt to rescue a stranded ship of human survivors, face ranks of Cybermen stalking Earth, go back in time and join Robin Hood in a fight with killer robots in Sherwood Forest, become outlaws when they break into the deadliest bank in the cosmos, face a Mummy on the Orient Express, discover a deadly horror dwelling on the Moon and meet the last man standing at the end of the universe.
The box set contains every explosive episode from Peter Capaldi's debut series in the role and is also packed full of extras including:
DVD Exclusive: Doctor Who - Deep Breath Cinema panel session (1x 30' feature)
DVD Exclusive: Audio Commentaries x 4 (episodes and participants TBC)
Doctor Who: The Ultimate Time Lord (1x45' feature with Fifth Doctor Peter Davison)
Doctor Who: The Ultimate Companion (1x45' feature with Fifth Doctor Peter Davison)
Doctor Who: Earth Conquest (1x45' World Tour Documentary)
Doctor Who Exclusive (4x2' cast interviews)
Doctor Who Extra (12x10' behind the scenes)
FOXES – Don't Stop Me Now (Music video from Mummy on the Orient Express).
Doctor Who: The Complete Eighth Series is available to pre-order now on
Amazon.uk
and
amazon.com
. There is also a BBC Shop exclusive edition featuring special artwork and art cards.