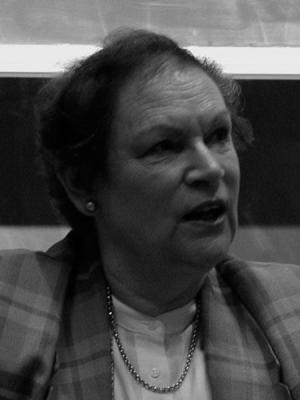 The actress
Maggie Stables
who had played the Sixth Doctor companion
Evelyn Smythe
in the Big Finish audios, has died after a long illness.
Maggie Stables turned to acting as a second career after taking early retirement from her post as a French teacher.
After some experience in musical theatre, in 1991 she acted in a production of Jane Eyre with Nicholas Briggs. This led to Briggs later casting Stables as Ruthley in Big Finish's first Doctor Who play The Sirens of Time, and as Evelyn the following year.
She played the character in twenty Big Finish productions.
Nicholas Briggs paid tribute to the actress on the
Big Finish Website
.
I was keen to get her involved in the Big Finish audios, casting her as the gruff Ruthley in our very first Doctor Who release, The Sirens of Time. It wasn't long before my friend and producer Gary Russell spotted her and saw her as potential 'companion' material. Evelyn Smythe made Doctor Who history. The first, dare I say it, 'elderly' companion of the Doctor's. Maggie was superb in the role and she and her Doctor, Colin Baker, immediately hit it off. And even though Maggie appeared in two 'final' adventures for Evelyn, it was always our intention to continue working with her -- such is the advantage of time travel. I was very pleased to welcome her back for another trilogy in 2011.
Maggie was such a lovely, warm person who did a fantastic job of playing Evelyn. She was extremely popular with our listeners and always a delight to work with. I have many fond and sometimes raucous memories of working with her in Doctor Who and on stage.
I shall always be grateful for the support and affection she gave to me and for all the laughs we shared along the way.'
Sixth Doctor
Colin Baker
also paid tribute to the actress
Devastated to hear about dear Maggie Stables. Lovely, generous, kind, wise lady and her Evelyn was the definitive companion for old Sixie
Maggie staples died in her sleep on Friday night, the 26th of September.