Wednesday, 27 August 2014 - Reported by Marcus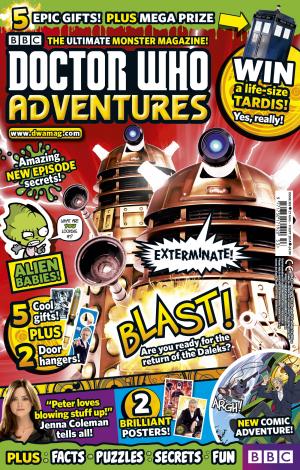 This week's
Doctor Who Adventures
gives you a chance to win a life-size TARDIS for your school.
Editor
Moray Laing
says:
Don't miss the latest issue as we've got an amazing competition. We're giving away life-size TARDIS to one lucky reader for their school classroom or playground. It's a perfect replica of the Doctor's amazing time machine – and although, sadly, it isn't actually bigger on the inside, it's a massive prize to win!
This TARDIS is worth £4,000 and to enter, readers have to collect two tokens. You'll find the first token in the current issue and the second one appears in the issue out on 10 September.
Plus:
Five fantastic gifts! A magnetic TARDIS box, special key, a sonic screwdriver and two more magic, moving lenticular cards.
Special door hangers to cut out and pop on your door.
Exclusive interview with actress Jenna Coleman who tells us what it's like to be the Doctor's companion.
Two amazing fact figures of the new Doctor and a Weeping Angel.
Preview pictures from the next two episodes.
A special appearance from Cheryl Cole in the Alien Babies comic strip.
Loads of activities and puzzle pages.
Dalek secrets.
Strax's guide to the Half-Face Man.
Two posters.
Read an exciting comic strip with the Doctor and Clara.
BBC Doctor Who Adventures Issue 353, on sale 27 August – 9 September 2014, priced £4.99.