Saturday, 30 August 2014 - Reported by Marcus
The latest edition of the fanzine
Planet of the Ming Mongs
is now available as a
free download
.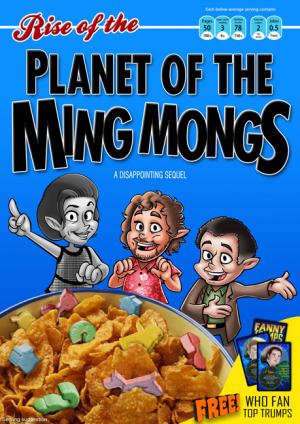 Ming Mong (n.) - an obsessive fan of Doctor Who
Rise of the Planet of the Ming Mongs (n.) - a free online fanzine celebrating Doctor Who fandom
A suspicious number of years in the making, Rise of the Planet of the Ming Mongs is literally stuffed with contents, from alphanumeric characters to punctuation symbols - all carefully arranged into vaguely coherent sentences!
GASP at Charles Daniels' incredible story of how Doctor Who saved him!
SAVOUR an academic take on spoilers by Professor Matt Hills!
MEET questionable fan Conway in Giacomo Lee's fabulous fiction!
UNCOVER what Garr and Suthers have been up to in their dingy basement archive!
READ JUICY DETAILS of Peri and Yrcanos's private life!
SALIVATE over recently-uncovered deleted scenes from the 1975 Blue Peter annual!
RECOIL IN HORROR as we subject a non-fan to near-lethal doses of Doctor Who!
STARE IN DISBELIEF at our borderline-libellous Writer's Tale parody!
…and lots more besides! Fifty fun-filled pages, all dripping with the warm juices of fandom.
Rise of the Planet of the Ming Mongs. What could possibly go wrong?