Wednesday, 20 August 2014 - Reported by John Bowman

Tomorrow's edition of CBBC magazine programme
Blue Peter
will be a special programme dedicated to
Peter Capaldi
as the incoming Doctor and featuring the winners of last year's competition to design sonic devices for the Paternoster Gang of Madame Vastra, Jenny Flint and Commander Strax.
The 12th Doctor: A Blue Peter Special
- presented by
Barney Harwood
,
Lindsey Russell
and
Radzi Chinyanganya
- takes the three young contest winners Connor, Arthur and Amber behind the scenes of Doctor Who to see their sonic gauntlet, lorgnette and hat pin in action, where they also meet Capaldi.
In addition,
Dan Starkey
, who plays Strax, talks about how he is turned into a Sontaran via prosthetics, while the make-it will be a TARDIS T-shirt.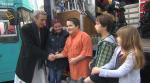 The programme, which airs at
5.30pm
, will be repeated on Saturday at
8.20am
and then at
6.25pm
as part of a range of Doctor Who-related programmes being shown on CBBC from
1.40pm
- also comprising episodes from
The Sarah Jane Adventures
as well as the animated adventures
The Infinite Quest
and
Dreamland
plus documentary
12 Again
- in the run-up to the broadcast of
Deep Breath
that evening.
The show will also be available to TV licence-payers in the UK for a limited time via the
BBC iPlayer
.
As part of its celebration of the new series of Doctor Who, the Blue Peter website also has details about how to
make Doctor Who character masks
as well as
Doctor Who T-shirts
, and is inviting people to
invent a new Doctor Who character
.