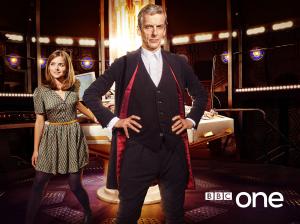 The BBC has appealed to fans not to spoil the new series of
Doctor Who
, after a number of scripts from upcoming shows were leaked onto the internet.
The first five scripts for Series Eight, including the series opener
Deep Breath
, are understood to have been compromised after being sent to the BBC Worldwide office in Miami, where they were due to be translated for the Latin America market. The BBC is trying to achieve a near simultaneous global release of the series, including broadcasts on BBC Entertainment, throughout the region.
BBC Worldwide told
Radio Times
they were pleading with the public and fans sites not to share the material released
We would like to make a plea to anyone who might have any of this material and spoilers associated with it not to share it with a wider audience so that everyone can enjoy the show as it should be seen when it launches. We know only too well that Doctor Who fans are the best in the world and we thank them for their help with this and their continued loyalty.
The scripts appear to have been uploaded from the BBC Worldwide site in Miami, which was left open to public indexing, meaning scripts from
Doctor Who
, as well as scripts from other popular BBC programmes such as
Top Gear
and
Call the Midwife
, were accessible to anyone with an internet link. It is understood video files were also stored on the server, but it is not known if these contained content relevant to
Doctor Who
. The server has now been taken offline.
The series has been leaked before. In 2005 the first episode of the relaunched series,
Rose
, leaked onto the internet, a few weeks before its launch on BBC One, and in 2013 the series finale,
The Name of the Doctor
, was released early due to a mistake in the American distribution of the Series 7 Blu-rays and DVDs. In 1983 the Target novelisation of the twentieth anniversary story,
The Five Doctors
, was published two weeks before the story was transmitted by the BBC.
The series is due to premiere around the world from
August 23rd
.