Monday, 21 July 2014 - Reported by Marcus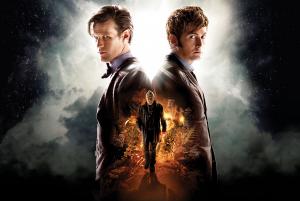 The Day of the Doctor
was the most-watched drama on BBC Television last year, with an average of
12.8 million
viewing.
The figures are confirmed in the
BBC Annual Report
published today, which also reveals that
3.2 million
requested the 50th-anniversary episode on iPlayer.
Doctor Who is
listed
as one of the global highlights of the year, with the Doctor Who special being shown on TV in
98 countries
, with 3D screenings in
23 countries
, broadcast in
15 languages
, and selling
649,138 cinema tickets
in 25 countries. Following transmission, the episode went straight to the top of the iTunes US and Amazon charts, illustrating appetite for the Doctor Who brand, which has 4.3m fans on Facebook.
BBC Worldwide
, the BBC's commercial arm, also reported on how well the series performs for the Corporation.
The Day Of The Doctor
sold more DVD copies in its first week than any previous Doctor Who title. Additionally, the returned classic Doctor Who episodes,
The Enemy of the World
and
The Web of Fear
, topped the iTunes TV chart in October. By offering fans exclusive products, such as limited edition box sets and branded apparel, the e-commerce business at BBCShop.com has increased by 30.4%.
In
North America
the Doctor Who 50th-anniversary episode reached almost
4.5m viewers
on the day and set a record for activity related to a televised event on Tumblr, surpassing the Super Bowl and MTV VMAs. The Doctor Who Christmas special premiere was BBC America's first-ever audience over 3m.
BBC Worldwide reported that although revenue from consumer products in the US as a whole was marginally down, it outperformed the declining US DVD market. This was aided by Doctor Who 50th-anniversary programming, which also fuelled an 80.1% uplift in licensing, with total licensing revenue equating to over
US$100m
in retail sales. The one-day theatrical release of
The Day of the Doctor
delivered the equivalent of
US$4.8m
at the box office, making it the second-highest US box office hit on the night.
In
Australia
the Doctor Who 50th-anniversary broadcast reached
1.7m viewers
, while the sales of Doctor Who DVDs increased by
59.6%
. Live events included the Doctor Who Symphonic Spectacular touring three cities, and the 50th-anniversary episode screening was seen by more than 95,000 cinema-goers in 131 cinemas. BBC Worldwide Australia launched four Doctor Who pop-up shops and an online store.
In
Latin America
The Day of the Doctor
was seen by 24,000 people in cinemas across the region.
Overall, BBC Worldwide made a headline profit of
£157.4 million
.