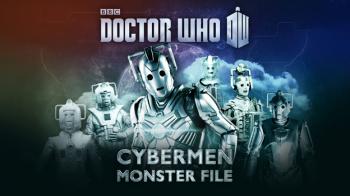 An interactive ebook history of the Cybermen has been released globally by the BBC as an experiment - and is available free to UK licence-payers until the end of this month.
The
Doctor Who: Cybermen Monster File
features every version of the Cybermen, with the baddies being brought to life using clips, photos and in-depth information. The ebook also includes a new and exclusive story entitled
Cybermen: Status Update
, written by
Joseph Lidster
and narrated by
Nicholas Briggs
, who has been the voice of the Cybermen since their return to the show in 2006.
The ebook - which has been created by the BBC and is being distributed internationally by BBC Worldwide - also features galleries and the real-life story behind the metal monsters. There are interactive sections on the world of the Cybermen, where everything from Handles to Cybermats and the CyberKing is investigated, and there are quizzes as well.
After the free offer for UK licence-payers expires - at
11.59pm BST on 31st July 2014
- they will be able to buy it on iTunes, Android stores, the Kindle Fire App and Google Play. It should be noted that if it is downloaded for free then removed from a device, it will not be available for free reinstallation after then.
The interactive multi-media digital book is designed to be viewed on Android tablets, Apple iPads and Kindle Fire tablets. It can also be viewed on Mac computers with OS X Mavericks.
The file will take up 370MB on Apple and 295MB on both Android and Kindle. In addition, the installation process means that 590MB of file space is needed on Android and Kindle Fire tablets.
To view the ebook on an Apple iPad it must have iBooks 3 or later and iOS 5.1 or later, or a Mac with iBooks 1.0 or later and OS X 10.9 (Mavericks) or later. If syncing via the iTunes desktop application version then 11.1.3 or later is required. To view it on an Android tablet you must have Android 4.0.3 (Ice Cream Sandwich) and up. If you want to view it on a Kindle Fire tablet it has to be running Android 4.0 and up.
The BBC says the purpose of the experiment is to explore a different platform for delivering additional content to audiences. It adds that the ebook has been co-funded with money from the UK licence fee and, as such, is being made free to UK licence-payers until the end of this month.
UK licence-payers can download it for the iPad from
here
, for the Android from
here
and for the Kindle Fire from
here
.
People outside the UK can buy it now via these links:
iTunes
,
Google Play
,
Amazon
.
Watch a trailer for the ebook below: