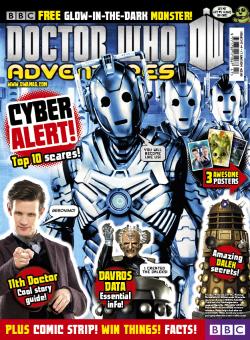 The latest issue of
BBC Doctor Who Adventures magazine
is out now and comes with a free glow-in-the-dark Slitheen.
Inside the magazine there's a Top 10 of Cyber scares – readers can relive their most shocking moments in Doctor Who so far.
Dalek fans can find out their secrets in The Dalek Files – and there's a chance to win a Talking Plush Dalek, too.
Also, there's:
Alien Babies comic fun.
An interview with the Doctor's Cyberhead friend Handles.
Strax's Guide to Davros.
Behind-the-scenes info from Series 7.
More trouble for the Eleventh Doctor and Clara in the comic strip.
Posters – including one of the Eleventh and Twelfth Doctor.
Plus puzzles and loads of monster fun…
Issue 347, on sale 4 – 17 June 2014.