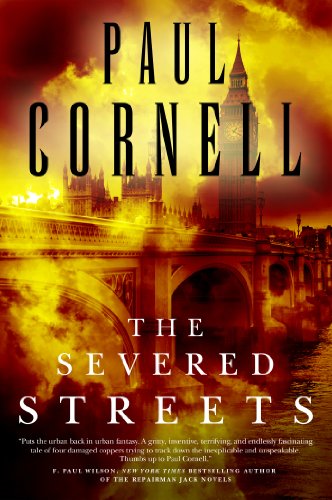 Doctor Who News is pleased to offer the chance to win a signed copy of
Paul Cornell
's new book
The Severed Streets
.
Cornell has written three Doctor Who episodes,
Father's Day
,
Human Nature
and
The Family of Blood
as well as writing many novels, comics and audio plays based on the series. He also has written for
Casualty
,
Robin Hood
and
Primeval
as well as a number of comic books for Marvel and DC.
The Severed Streets
is his second urban fantasy novel, following
London Falling
.
We have one signed copy to give away to the person who can tell us which Doctor featured in the original novel
Human Nature
, written by Cornell and published in 1995. Send entries to
comp-book@doctorwhonews.net
. Competition closes on
Monday 26th May 2014
.
Only one entry per person. The winner will be selected at random from the correct entries. The editor's decision is final.
Summer in London: a city in turmoil. The vicious murder of a well-known MP is like a match to tinder but Detective Inspector James Quill and his team know that it's not a run-of-the-mill homicide. Still coming to terms with their new-found second sight, they soon discover that what is invisible to others - the killer - is visible to them. Even if they have no idea who it is.

Then there are more deaths. The bodies of rich, white men are found in circumstances similar to those that set the streets of London awash with fear during the late 1800s: the Whitechapel murders. Even with their abilities to see the supernatural, accepting that Jack the Ripper is back from the dead is a tough ask for Quill's team. As they try to get to grips with their abilities and a case that's spiralling out of control, Quill realises that they have to understand more about this shadowy London, a world of underground meetings, bizarre and fantastical auctions, and objects that are 'get out of hell free' cards. But the team's unlikely guide, a bestselling author, can't offer them much insight - and their other option, the Rat King, speaks only in riddles.

Relying on old-fashioned police work and improvising with their new skills only lands them in deeper water, and they soon realise that the investigation is going to hell - literally. And if they're not careful, they may be going with it . . .
The Severed Streets
is published by Tor on
22nd May 2014
.