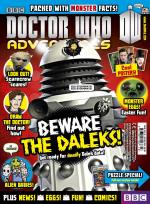 The latest edition of
Doctor Who Adventures
shows readers how to make monster eggs for Easter. Examples include a Zygon, Weeping Angel, Dalek, Slitheen and Mr Sweet.
Also in DWA 343:
Fun with the Alien Babies
Pictures from filming the new series
Strax's guide to the Daleks
Find out the Scarecrows' secrets
Learn how to draw the Doctor
Pull-out puzzle section
Behind the scenes on The Name of the Doctor
A comic strip featuring an unseen adventure with the Eleventh Doctor and Clara
Three posters
Three free monster bouncers and 25 stickers
The current issue is available until Tuesday 22nd April.