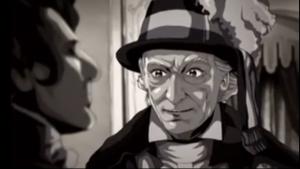 The Australian animation company behind the re-creation of
Doctor Who
stories has told the Australian parliament it may need to relocate to the UK due to difficulties accessing broadband in the country.
Planet 55 Studios
, which has animated some of the recent Doctor Who missing stories including
The Reign of Terror
and
The Tenth Planet
, told the
Senate Select Committee for the National Broadband Network
that the lack of bandwidth to the company's headquarters on the Central Coast of New South Wales was seriously frustrating the work of the company.
The organisation needs to move about 30 gigabytes of data per day.
Austen Atkinson
, the studio's head, told the committee the company had installed fibre to its premises and was paying AU$1,600 per month for a 50Mbps down, 50Mbps up link.
We could do with eight times that but we simply cannot get it. So we installed a line at AU$1,600 a month. We would love to install multiple ones but we cannot because there is not enough bandwidth. I will use any technology that works to get this out. At the moment it is called 'post'. That is what we are having to do. It slows down our productivity massively and costs us serious money. It would add about AU$1 million to transfer, which we could easily have spent on talent here. We could have trained more talent and spent it on animators, which I would much rather have done.
Mr Atkinson said the company was taking on more work for the BBC and so it was considering relocating to Cardiff in the United Kingdom.
The fact is that it is very attractive to look at in the UK at the moment, because the economy is booming again now; it is growing in my sector tremendously. As a result of Doctor Who's success and so forth, there is a huge culture in Cardiff.
Source: ZD Net