Thursday, 13 March 2014 - Reported by John Bowman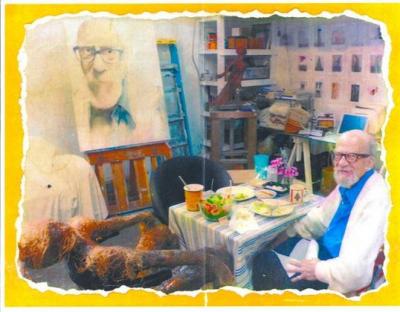 The actor
Olaf Pooley
is 100 years old today - making him the second person to have appeared in
Doctor Who
to become a centenarian.
Born in the Parkstone area of Poole in Dorset to an English father and Danish mother, he studied architecture at the Architectural Association in London and painting at the Chelsea School of Art - and is still an exhibiting painter.
His first full-time job was with Pinewood Film Studios' design department, and he then became a member of the BBC Radio Drama Repertory Company, with his prolific acting career also seeing him appearing in the West End, on film and on TV. He is one of just a handful of actors to have appeared in both the
Doctor Who
and
Star Trek
franchises.
Pooley had two roles in
Doctor Who
, both of them in the 1970 story
Inferno
, portraying Professor Stahlman and his parallel-Earth counterpart Director Stahlman in the seven-parter.
During his career, he wrote and appeared in the film
The Corpse
- entitled
Crucible of Horror
in the USA - which starred
Michael Gough
, and wrote, directed and appeared in
The Johnstown Monster
. He also wrote the screenplay for a film version of Bernard Taylor's
The Godsend
, which was directed by his future second wife Gabrielle Beaumont. Pooley's other writing credits include the 1982 TV film
Falcon's Gold
, while he was an uncredited writer on the 1985 sci-fi horror movie
Lifeforce
.
His TV guest appearances since the 1950s included roles in
Dixon of Dock Green
,
Paul Temple
,
Jason King
and
MacGyver
, as well as playing Lars Torvik in the first episode of
The Sandbaggers
.
In 1958, Pooley took part in the BBC radio play
Ambrose In Paris
, and he played Sebastian in a 1956 film production of
The Tempest
. Pooley had a major career in West End theatre, appearing in notable productions such as Noël Coward's
Peace In Our Time
as well as
The Tempest
and
Othello
, and he counted Sir Alec Guinness among his close friends.
He emigrated to the United States in 1986, where he continued his acting, also becoming a respected artist both there and abroad. In an interview, he said:
"It is a privilege to be an artist and I am fortunate in this respect."
An avid reader, he keeps fit by taking a daily walk and doing calisthenics and makes sure that he eats healthily.
Examples of Pooley's artwork can be seen on the
InHarmony Yoga
website, and he will be displaying his paintings at an "open house" event at the
Santa Monica Art Studios
at 3026 Airport Avenue, Santa Monica, on
Saturday 15th March
between
midday and 6pm
.
With Thanks To Jackie Kaminski, Santa Monica Observer, Tony Clark