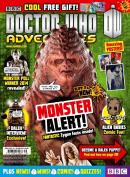 The new edition of
Doctor Who Adventures
- out today - carries the results of a poll to find the ultimate monster from the Christmas special
The Time of the Doctor
- with the Daleks claiming a major victory.
Almost 3,000 readers voted and the Daleks won with a massive 55 per cent of the results. The full results were as follows:
1: The Daleks - 55 per cent
2: The Cybermen - 17 per cent
3: The Weeping Angels - 14 per cent
4: The Sontarans - 10 per cent
5: The Silence - 4 per cent
DWA editor
Moray Laing
said:
It's official. Daleks rule! Well done to all the Daleks throughout time and space for coming first in our poll. They must be delighted with the result! It's great to know that these unstoppable creatures continue to scare and enthral children in 2014 as much as they did when they first appeared all those years ago. Thanks to our readers for voting!
Also in the magazine, there's an interview with a Dalek who tells the magazine what it thinks of the win. Plus:
A look at the first picture of new Doctor Peter Capaldi in costume
Bonus token and entry form for the chance to win a life-size Dalek
Fact file about the shape-changing Zygons
Win Doctor Who DVDs, an Xbox and games
Make a Dalek puppet eyestalk
Secrets from the set of The Time of the Doctor
A free exclusive monster stationery set
On sale until Tuesday 25th February, issue 339 of DWA also contains news plus posters, puzzles and a comic strip featuring an unseen adventure with the Eleventh Doctor and Clara.
DWA's latest circulation figure - covering
July to December 2013
- will be published tomorrow (as will the figure for
Doctor Who Magazine
).