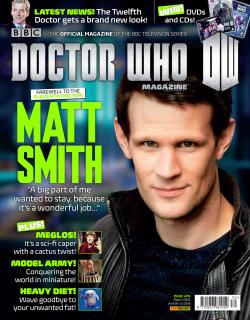 The new issue of
Doctor Who Magazine
looks back on
Matt Smith
's four years as the Doctor.
A big part of me wanted to stay because it's a wonderful job and he's a wonderful character. My life will never be the same. I'll never play another part quite like this.
Also in this issue:
Model-maker extraordinaire Mike Tucker and members of the Model Unit talk to DWM about creating the visual effects for Doctor Who in the 1980s.
Doctor Who's new executive producer Brian Minchin writes exclusively for DWM in Production Notes.
A detailed look at the Fact of Fiction of 1980's Meglos.
The Blood of Azrael – the first part of a new comic strip adventure for the Doctor and Clara.
The Time Team welcome Donna aboard the TARDIS as they watch Partners in Crime.
A preview of the recently rediscovered The Web of Fear on DVD.
A review of the newly released Moonbase DVD from Matthew Sweet.
Jacqueline Rayner debates the ethics of telling the truth to her children in Relative Dimensions.
The Watcher talks about his favourite Doctor Who planets and outs another helpless supporting artiste in Wotcha!
Reviews of the latest DVDs, CDs, and books.
Competitions, puzzles, and much more.
DWM 470 is on sale from Thursday 6 February 2014.