Saturday, 28 December 2013 - Reported by Melad Moshiri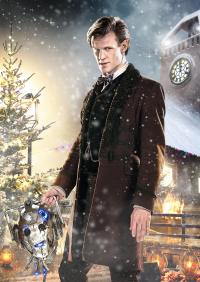 The Time of the Doctor
Christmas special has been named the most watched programme in
BBC America
's history.
The 800th episode in the show's run attracted
2.47 million
viewers overnight, the highest ever audience achieved on the channel, beating
The Day of the Doctor
's record of
2.4 million
viewers.
It was however beaten by showings of
The Big Bang Theory
(3.96m) and
Duck Dynasty
(2.69m), all broadcast in a 9:00pm slot on cable.
The
Farewell to Matt Smith
special, broadcast before the incumbent's final adventure however, drew in a respectable audience of
1.54 million
.
In the UK,
Time
was the second most watched on Christmas Day while becoming the eighth highest rated show of the day in Australia.
On Twitter, 183,550 tweets were generated, becoming the most tweeted show of the day on the social network and beating previous Christmas special
The Snowmen
's 64,049 total.
Peter Capaldi
's entrance, meanwhile, brought in 18,844 tweets.