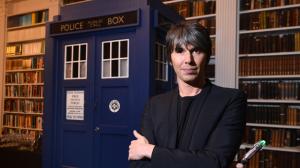 The Science of Doctor Who
had an average overnight audience of
2.6 million
viewers, according to unofficial figures.
The lecture in which
Professor Brian Cox
explains the physics that allows Doctor Who to travel through space and time, was the second highest rated programme on BBC Two for the day. It scored a
12.1% share
of the total audience, beating the ITV offering,
Breathless
, which had 2.2 million watching. On BBC One the fundraising concert,
Children in Need Rocks
, had an average of 4.2 million viewers.
Bedlam
, on Channel 4 had 1.2 million watching with
Slaughter at the Farm: Countdown to Murder
getting 1.3 million.
Overall
The Science of Doctor Who
was the 16th most watched programme of the day. The programme is available to UK viewers on the
BBC iPlayer
and is repeated next Friday on BBC Two at 11.05pm.
The repeat of
Buzzcocks: The Doctor Who Special
, hosted by
David Tennant
and featuring
Bernard Cribbins
and
Catherine Tate
, had an average audience of
1.6 million
watching, an audience share of
8.5%
, and was 28th for the day.