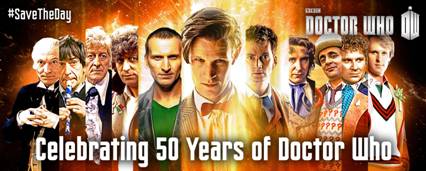 BBC Worldwide
is collecting images of fans around the world celebrating the 50th Anniversary of
Doctor Who
this weekend.
Whether it be a dress up party at your local cinema, enjoying watching the broadcast of
The Day of the Doctor
at home, or any other Doctor Who events you plan on participating in this weekend, they would love to get a picture of your engagement with the 50th Anniversary.
A special email address has beenset up to which images can be sent
doctorwho50@bbc.com
NB: By emailing pictures to this address you are consenting to them being used by the media, the BBC, BBC Worldwide and its partners.