Details have now been finalised for the forthcoming download release of the 2013 remix of Mankind's 1978 disco hit cover version of the Doctor Who theme, as well as the tracks for the CD and vinyl formats of the compilation album
Space, Time And Beyond
.
Now retitled
Dr Who? (Time Waits For No Man)
by
Mankind vs Dos Amigoz feat Diane Charlemagne
, the remix download is available to pre-order in
radio edit
and
club mix
formats. Both are also available from
iTunes
(as separate clickable items).
A teaser video for the remix has been released:
In addition to being available to buy online (
CD
and
vinyl
), the album will also be on sale in larger HMV record stores and can be ordered from any HMV or Fopp record store.
The track listings for both album formats are as follows:
Vinyl release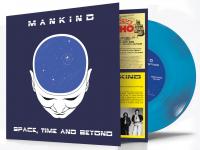 Side One:
Dr Who? (Time Waits For No Man)
Dr Who? (Radio)
Time Traveller (Radio)
Chain Reaction (Radio)
Funky Revolution (Radio)
Dark Star Angel (Radio)
UFO (Radio)
Side Two:
Dr Who? (Club)
Chain Reaction (Club)
Dark Star Angel (Club)
Dr Who? (Cosmic Remix) – a special remix for the BBC, made in 1984
The vinyl album has a gatefold sleeve telling the story of the making of the 1978 single, a poster, plus unpublished photos from the first Doctor Who convention in the USA, which was held in 1979 and for which a special pressing of the single was made.
CD release
Dr Who? (Time Waits For No Man)
Dr Who? (Radio)
Time Traveller (Radio)
Chain Reaction (Radio)
Funky Revolution (Radio)
Dark Star Angel (Radio)
UFO (Radio)
Dr Who? (Club)
Time Traveller (Club)
Chain Reaction (Club)
Funky Revolution (Club)
Dark Star Angel (Club)
UFO (Club)
Dr Who? (Cosmic Remix)
The CD will have the same information as the vinyl release.
Furthermore, with BBC Four currently running truncated and full repeats of the now-defunct BBC1 show
Top of the Pops
from 35 years ago, the edition featuring Mankind's first appearance on the programme, which was first broadcast on
30th November 1978
, will be airing on BBC Four tomorrow -
Thursday 14th November
- at
7.30pm
, with the extended repeat a few hours later at
2am
on
Friday 15th November
.
Meanwhile, the edition of
14th December 1978
, which featured a subsequent appearance by the group, is due to be shown on BBC Four on
Thursday 21st November
, again at
7.30pm
, with the extended repeat at
2.10am
on
Friday 22nd November
.
Please note that the group's appearances may only be included in the extended repeats, but the iPlayer carries the full versions.
Recalling their appearances, Mankind producer
Don Gallacher
exclusively told Doctor Who News:
So, on the Monday I think it was, we got the chart position of 25, and also the call that we had a place on Top Of The Pops. The golden prize! We would record two days later.

I called the musicians who had recorded Dr Who? and who I had named Mankind. Mark Stevens was available, so was Dave Green, but Graham Jarvis and Dave Christopher weren't. They may have been on tour with Cliff Richard.

My usual session drummer, Graham Hollingworth, was free and I called Paul Martinelli, the lead singer and guitarist from my old band Britania. He said yes, but he'd have to take a day off work.

In those days the Musicians' Union had strict rules about TV appearances. It was OK to mime but not to the original recording. I had to re-record the track using the same or replacement MU members. This was next to impossible. Although the musos were quite capable of recording the basic track in one take, Mark Stevens and I had spent days in the studio dubbing extra electronics: keyboards and synth tracks. There was no way we could do all that in a three-hour recording session!

I booked a studio and told the guys to be there early, certainly before the MU rep - who would oversee the session - arrived. You can probably guess that we were about to "pretend" to re-record the track. If the MU rep suspected anything there would be no Top Of The Pops.

Everybody turned up on time and took their places behind isolation booths. Everybody, that is, except for bass player Dave Green. The MU rep arrived and we started "recording". The MU rep stayed in the control room of course and he couldn't see all the musicians, so he was oblivious to the fact that we were one member short. I remember hitting the talkback button and giving instructions to the absent Dave. I was terrified! Any minute, Dave Green would walk into the control room and in his usual ebullient style say something like "OK, when do we start?"

I kept making my excuses to go outside. The MU rep must have thought I had a weak bladder! On one of these "trips to the loo" I encountered Dave bouncing up the stairs. Before he could say anything, I put my finger to my lips to say "Shhh". I whispered what was going on and told him to sneak into the studio and take his place. He was to mime to the track.

As luck would have it, we got away with it, and the band would now appear on Top Of The Pops.
Mankind are also to be featured in the Radio 1 documentary
The Story of Trock
, which will air on
Monday 25th November
at
9pm
.
Competition
:
In association with
Don Gallacher
and
Mondo Recordings
, Doctor Who News is delighted to offer readers the chance to win a copy of the CD compilation. There are three up for grabs, with an additional prize of a copy of the rare USA convention pressing of the 1978 single, signed by Gallacher, for the first name "out of the hat".
To be in with a chance of winning, please answer the following three music-related questions
1) What was the B-side of the 1978 Mankind single Dr Who? called?

2) What pop group did Susan say she was listening to on her transistor radio in the first episode of Doctor Who?

3) Which band was the Doctor trying to take Rose to see in concert at the beginning of Tooth And Claw?
and send your entry to
comp-mankind@doctorwhonews.net
with the subject line
Disco Doctor
. Please make sure you include your name, postal address, and where you read about this competition (eg, the DWN website, Facebook, Twitter). Details will not be used for marketing purposes. The contest is open worldwide and closes on
Friday 22nd November 2013
at
11.59pm GMT
. Only one entry per postal address will be accepted.