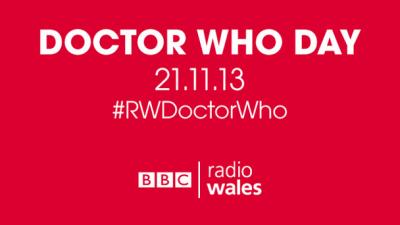 BBC Radio Wales
has announced it will dedicate its daytime schedule to Doctor Who on
Thursday, November 21
- two days before the worldwide broadcast of the special 50th anniversary adventure, The Day Of The Doctor.
Two of the station's daytime programmes,
Jason Mohammad
and
Eleri Siôn
, will be broadcasting live from the
Doctor Who Experience
in Cardiff Bay on the day, with a host of special guests ready to tell the Welsh story of the legendary time traveller. Radio Wales will also be re-broadcasting the Doctor Who Prom that was performed at the Royal Albert Hall in London in July this year.
BBC Radio Wales' Editor,
Steve Austins
, says:
I'm thrilled we're going to celebrate this truly Welsh success story with the Radio Wales Doctor Who Day. Its return in 2005 marked the start of BBC Cymru Wales' drama success story with programmes like Doctor Who now viewed by millions all over the world. It's fitting therefore that we pay tribute not only to The Doctor but also to all those involved in making the series from our Roath Lock studios in Cardiff Bay. I'd say it's one of the great Welsh success stories of recent years.
From 10am on Radio Wales Doctor Who Day, Jason Mohammad will be chatting with
Jenna Coleman
about her role as the Doctor's current companion, Clara Oswald, and
Steven Moffat
, the show's head writer and executive producer, will be answering listeners' questions. Mohammad will also be talking to the curator of the Doctor Who Experience,
Andrew Beech
, and there will be a special item about how Wales has benefited from its association with the long-running series.
Mohammad's connection with the series is stronger than some listeners of his Radio Wales show may appreciate, as he's appeared as a newsreader on both Doctor Who and the spin-off series, The Sarah Jane Adventures. He's therefore experienced some of the passion the fans have for the series at first hand.
I still get mail from Doctor Who fans, I've got one letter which I've kept from a guy in New Zealand who said, 'I'm not familiar with your repertoire - I don't know what else you've done, but may I say you played the role of a newsreader very well,' not knowing that it was my job at the time.
Eleri Siôn will take over the live broadcasts from the Doctor Who Experience from 1pm, with an interview with location manager
Iwan Roberts
about his job and some of the Welsh locations used on the series. There will also be an exclusive look behind the scenes as the BBC National Orchestra of Wales records the music for The Day Of The Doctor, including interviews with composer
Murray Gold
and conductor
Ben Foster
. Film critic
Gary Slaymaker
will also assess the impact Doctor Who has made on film.
BBC Radio Wales can be heard globally via the
BBC Website
.