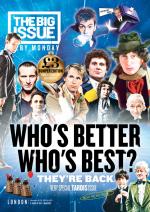 The new edition of street magazine
The Big Issue
- out today - marks the 50th anniversary of Doctor Who with a cover feature.
Editor
Paul McNamee
said:
We kick off our run of five bumper editions leading up to Christmas with a Doctor Who special. As the anniversary of that show approaches, with a number of Doctors together on screen and fan-mania growing, we have a collection of fantastic features.
These include:
An interview with Matt Smith detailing working on screen with David Tennant
A piece from Who-obsessive, screenwriter, and man of letters Mark Gatiss
Pieces from Karen Gillan and Eddie Izzard plus a panel of experts explaining what deeply-held psychological fear each Who monster plays to and why we can't escape them
A big Doctor Who competition with prizes including a TARDIS teapot
This special edition of the weekly magazine will be available from vendors everywhere across Britain except for a pocket around Manchester and the north-west, which is served by
The Big Issue In The North
.
The Big Issue
is written by professional journalists and helps homeless and vulnerably-housed people by giving them the chance to earn their own money. Vendors buy the magazine at a reduced rate and sell it for the cover price, keeping the difference. Please note that the magazine should only be bought from badged vendors.
If people are unable to get hold of the publication, they can e-mail office manager
Robert White
via
robert.white@bigissue.com
.
UPDATE - TUESDAY 19th NOVEMBER:
The Big Issue
has got £1,800-worth of Doctor Who goodies to give away, including prints, DVDs, and Weeping Angel costumes. Editorial co-ordinator
Steven MacKenzie
told
Doctor Who News
:
It doesn't just have to be people who have already bought the magazine who can enter.
The closing date is
Wednesday 27th November
. Full details are available
here
.