Tuesday, 10 September 2013 - Reported by Chuck Foster
Miwk Publishing
have announced that they will be publishing an updated version of former script editor
Andrew Cartmel
's book
Script Doctor
; it is due to be released this coming November:
Miwk Publishing are absolutely delighted to be reprinting this unique insight into an era of Doctor Who which, while dividing fandom at the time, has seen a reappraisal in recent years following the release of the stories on DVD and the subsequent scrutiny of the era in the accompanying special features.

It has been revised and slightly updated from its originally version and features new forewords and afterwords additional to this edition. We couldn't reprint the book without reprinting the original cover. Grateful thanks to Steve Cook for allowing us to reuse his photograph.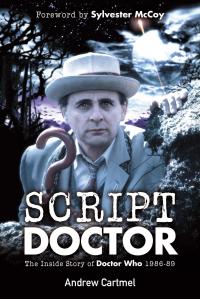 Script DoctorWritten by Andrew Cartmel
In 1987
Doctor Who
was a series in the middle of an on-going crisis. Producer John Nathan-Turner had been 'persuaded to stay' even though his programme had only a year earlier been cancelled by 'the powers that be'. Yet again those on-high stepped in to interfere with the show and asked him to recast the Doctor. But JN-T had other problems too, during season 23 his script editor Eric Saward had quit very publicly.
This vacancy was filled by Andrew Cartmel. Within very few months he had to find writers for the new season, write out the current companion, introduce a new companion and establish a new Doctor as well as planning ahead to the following season that would mark
Doctor Who
's 25th anniversary.
For three years Andrew Cartmel, with the support of JN-T, pushed
Doctor Who
into a new direction. The show was moved to a weekday slot again up against ITV stalwart
Coronation Street
but still put up a good fight in its last three years. His writers Ian Briggs, Ben Aaronovitch, Stephen Wyatt, Malcolm Kohl, Rona Munro, Marc Platt, Kevin Clarke and Graeme Curry, had never written for Doctor Who before. This new broom sadly came too late and the show was cancelled again in 1989. But Cartmel's legacy and his 'Master-Plan' would live on.
What he started was picked up and taken into the nineties by a new generation of writers who would eventually bring Doctor Who back to our screens in 2005.
'Script Doctor' is a memoir of those times, from his first day in the office to his first day on set right up to hastily penning the final few lines of the last story broadcast in the original run. Helping to cast the new seventh Doctor, Sylvester McCoy, and create a new companion in Ace, played by Sophie Aldred, 'Script Doctor' is an intimate tale which sees a team of dedicated, creative new wave at the BBC, battling the old-guard and attempting to push the envelope.
The book will be available be on general release in paperback from November, and there is a limited edition signed and numbered hardback version exclusively available from the
Miwk website
.