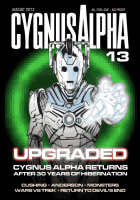 A new Fanzine called
Cygnus Alpha
is now available.
Cygnus Alpha is a continuation of an old 1980s Fanzine which originally featured Paul Cornell and Gary Russell. It's been brought up to date by Simon Brett ( phonic Screwdriver radio host, Phonicon organiser, Star Burst podcaster and Star Burst illustrator), Lee Rawlings ( Phonic Screwdiver radio host, Phonicon organiser and Star Burst podcaster), and Paul Griffin ( 80s & 90s fanzine illustrator, DWM illustrator and BBC Doctor Who book cover artist for The Devil Goblins From Neptune).
It features the likes of JR Southall ( You & Who books ), the original writers George Sik, Rolo Paloma, Paul West (the original editor), John Davies ( Big Finish Short Trips) , Simon Breeze ( fantasy artist), Lee Rawlings, Simon Brett and Paul Griffin.
It's A5 and features colour artwork. This issues has articles on
Peter Cushing
,
Gerry Anderson
&
Captain Scarlet
, a colour comic strip, short story by JR Southall and an exclusive interview with the director of Doctor Who's
Kings Demons
Tony Virgo
.
It is now available priced at £2.50 plus p&p.
Details from the
Fanzine's Facebook page
.