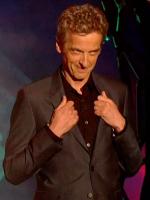 Doctor Who Live; The Next Doctor
was watched by
6.1 million
viewers in the UK, according to unofficial overnight figures.
The audience peaked at
6.9 million
viewers at the moment
Peter Capaldi
was unveiled as the 12th Doctor. The live broadcast was the highest rated show of Sunday, achieving a share of
29.8%
of the total television audience. Second for the day was
Countryfile
with 5.6 million watching, while the evening
News
, including news of Capaldi's casting as The Doctor had 4.8 million watching.
ITV's highest rated show of the day was
Law and Order:UK
with 4.2 million viewers. Against the Doctor Who reveal,
Tipping Point: Lucky Stars
had 3.9 million viewers.
Final official figures will be available next week. The Live show was also broadcast in the USA, Canada and Australia.