Sunday, 4 August 2013 - By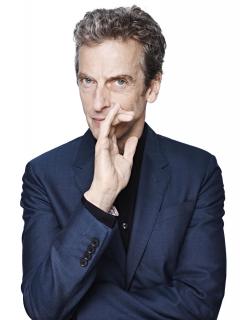 Peter Capaldi is to play the Twelfth Doctor, it has been revealed tonight.
In a live show that featured a number of studio and recorded guests chatting about
Doctor Who
and what it meant to them, Capaldi was introduced to millions of viewers from the United Kingdom, United States, Canada and Australia in the special live programme
Doctor Who Live: The Next Doctor
.
Met with resounding applause from the studio audience, the actor then went on to discuss with presenter
Zoe Ball
his enthusiasm for being the new Doctor. When asked how he found out about the role, he answered:
I was actually filming in Prague - I'm doing the BBC's adaptation of The Three Musketeers over there, playing Cardinal Richelieu - and I had my phone on silent, so I missed the call! I looked at it and saw 'missed call' ten minutes ago and it was my dear agent, and I rang her up and said "It's me", and she said "Hello Doctor!" And I just started to laugh, and haven't stopped laughing since.
Talking about the differences between the Doctor and the role he's most known for - currently - Malcolm Tucker from
The Thick Of It
, he said:
I think Malcolm's been banished from the mirror by this new Doctor, who certainly would not put up with any of Malcolm's language or attitudes to the world. I don't say I'm the Doctor, I'm surprised now to see Doctor Who looking back, that's what's really strange - you look in the mirror, and suddenly, strangely, he's looking back at me. And he's not me yet, but he's reaching out ... and hopefully we'll get it together.
As
Doctor Who News
reported
on Wednesday, he has been a life-long fan of
Doctor Who
, making a confession to SFX back in 2008. When asked about his audition for the Doctor, he observed:
It was quite hard because although I'm a life-long Doctor Who fan, I haven't really played Doctor Who since I was nine in the playground, so as an adult actor, I've never worked on it, so I downloaded some old scripts from the Internet and practised those in front of a mirror. Steven had already written some scenes that referred to a Doctor of my ilk.
Also this week, the
Radio Times
reprinted a letter
from a fifteen year old Capaldi congratulating the production team on another successful series.
When asked what he thought about the show's endurance and its fans, he answered:
Well I think Doctor Who is an extraordinary show, and the thing that strikes me about it is that it's still here after all this time. And the reason that I think that it is still here is because of the work of the writers and the directors and the producers who've worked on the show, the work of all the actors - I don't just mean the fabulous actors who've played the Doctor, but also those actors who sweated inside rubber monster costumes and those who had to wear futuristic lurex catsuits. But the real reason, the big reason that Doctor Who is still with us is because of every single viewer whoever turned on and watch the show at any age at any time in its history and in their history and have took it into their hearts - Doctor Who belongs to all of us, everyone made Doctor Who.
Matt Smith
also had a special message for his successor:
I just wanted to wish my successor all the best, and just say good luck and good on you for getting it, 'cos I know he is both a huge fan of the show and a really nice guy. And I think the casting of it made me really excited, genuinely, and as a fan I think it's a really canny choice. I think he'll be a hit so ... good luck, man, it's going to be a thrill!
You can watch the interview with Peter Capaldi below (may not play outside the United Kingdom):
Peter Capaldi is introduced to the world as the next Doctor! (
BBC iPlayer
)
Biography
:
Peter Dougan Capaldi was born in Glasgow on 14th April 1958; his mother's family hailed from Killeshandra, County Cavan, Ireland, and his father's family from Picinisco, Italy. He was educated at St Teresa's Primary School in the city's Possilpark district, St Matthew's Primary School in Bishopbriggs and at St Ninian's High School, Kirkintilloch, before attending the Glasgow School of Art.
Prior to his announcement tonight, the actor was best known for playing the acerbic political spin doctor Malcolm Tucker in the political satire series
The Thick of It
and the affiliated feature film
In the Loop
. In 2006, he was nominated for the BAFTA and RTS Best Comedy Actor Awards, and later won the 2010 BAFTA Television Award for Male Performance in a Comedy Role. He also won the 2010 British Comedy Award for Best TV Comedy Actor.
As well as
The Thick of It
, Capaldi has appeared in over forty films and television programmes since his debut as Danny Oldsen in 1983's
Local Hero
. Lead film roles came in 1988 with
The Lair of the White Worm
Dangerous Liaisons
, and then on television in the BBC drama series
Mr Wakefield's Crusade
. In 1995 he won an Oscar for Best Live Action Short Film for
Franz Kafka's It's a Wonderful Life
which he wrote and directed (it also starred
Richard E Grant
as Kafka and
Barry Letts
's son Crispin as Gregor Samsa). Other notable roles have included the fictional
Songs of Praise
producer Tristan Campbell in
The Vicar of Dibley
, a university professor in
Aftersun
, a prime suspect in
Waking the Dead
, Mark Jenkins in
Skins
, and the Angel Islington in Neil Gaiman's gothic fantasy
Neverwhere
. He has most recently been seen on television as BBC boss Randall Brown in
The Hour
, and in the film
World War Z
as the coincidentally named W.H.O. Doctor! As mentioned earlier he is due to appear as Cardinal Richelieu in the new BBC adaptation
The Musketeers
.
A life-long fan of
Doctor Who
Capaldi has played two roles previously, as Roman merchant Lucius Caecilius in
The Fires of Pompeii
, and more prominently as the Home Office Permanent Secretary John Frobisher in
Torchwood Children of Earth: Day One
.
A more comprehensive biography of Capaldi's career can be found in our followup article here.
BBC Press Release
:
Peter Capaldi exclusively revealed to the nation as the Twelfth Doctor

In a special live broadcast, the BBC today announced that the role of Doctor Who would next be played by Peter Capaldi.

Amid much hype and speculation, Peter Capaldi was unveiled as the next Doctor during a special live television event on BBC ONE tonight.

Widely regarded as one of the biggest roles in British television, Capaldi will be the Twelfth Doctor and takes over from Matt Smith who leaves the show at Christmas.
Peter Capaldi says: "Being asked to play The Doctor is an amazing privilege. Like the Doctor himself I find myself in a state of utter terror and delight. I can't wait to get started."

Steven Moffat, lead writer and executive producer says : "It's an incendiary combination: one of the most talented actors of his generation is about to play the best part on television. Peter Capaldi is in the TARDIS!"

Doctor Who companion, Jenna Coleman says "I'm so excited Peter Capaldi is the man taking on the challenge of becoming the Twelfth Doctor. With Steven's writing and his talent I know we'll be making an amazing show with an incredible incarnation of number 12. I can't wait to start this new adventure!"

Charlotte Moore, Controller BBC One says : "Peter Capaldi has all the genius and versatility needed to take on the mantel of the great Time Lord and make the role his own. He'll bring his own particular wisdom, charisma and wit to the Twelfth Doctor and take the show into an exciting new era."

Ben Stephenson, Controller, BBC Drama Commissioning says : "We started thinking Peter Capaldi might be the right person to take on this iconic part a few months ago. But it was only when he did a secret audition at Steven's house under the cover of darkness that we knew we had our man. He's an extraordinarily talented actor who can seemingly turn his hand to anything. We can't wait to premiere his unique take on the Doctor on Christmas Day and we are sure he's going to become one of the all-time classic Doctors."
Peter Capaldi introduces himself as the Doctor (
BBC iPlayer
)