Thursday, 29 August 2013 - Reported by Marcus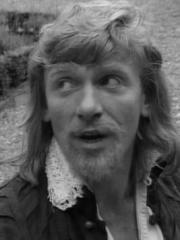 Gerard Murphy 1948-2013
The actor and director
Gerard Murphy
has died at the age of 64.
Gerard Murphy played Richard Maynarde, the servant of Lady Peinforte, in the 1988 Doctor Who story
Silver Nemesis
.
Murphy was Born in Newry, County Down, and began his professional career with the Glasgow Citizens Theatre. He returned there last year for an acclaimed Krapp's Last Tape. He was also and was an associate artist of the Royal Shakespeare Company, appearing as Hal alongside Joss Ackland's Falstaff in Henry IV, Part I in 1982.
For BBC Radio he narrated the 1981 adaptation of Tolkien's
The Lord of the Rings
. Television work included roles in
Spooks
,
Z Cars
,
Minder
,
Charters & Caldicott
,
Heartbeat
,
Father Ted
,
Dalziel and Pascoe
and
The Bill
.
His agent Lynda Ronan said he died at home on Monday after "battling courageously with cancer for two and a half years".
He was last seen in the West End in the 2010/11 revival of The Rivals at the Theatre Royal, Haymarket.
---
Christopher Burgess 1926-2013
The actor
Christopher Burgess
has died at the age of 86.
Christopher Burgess had three roles in Doctor Who, appearing in eleven episodes.
He played Swann in the 1967 story
The Enemy of the World
. Swann was the leader of Salamander's underground community of scientists. Burgess returned to Doctor Who in 1971 playing Professor George Philips, a scientist under the control of The Master, in
Terror of the Autons
.
His final appearance in Doctor Who was as Barnes, a resident of the meditation centre, in the 1974 story
Planet of the Spiders
.
He appeared in many British Television dramas including
The Bill, Jossy's Giants, David Copperfield, Two People, Danger UXB, Les Miserables, Treasure Island, The Growing Pains of PC Penrose, Z Cars, Softly Softly: Task Force, Dixon of Dock Green, Sherlock Holmes, Deadline Midnight
and
Who Killed Menna Lorraine?