Thursday, 1 August 2013 - Reported by John Bowman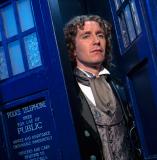 BBC America is to show the Eighth Doctor's sole TV outing to date on
Saturday 31st August
.
The
adventure
, starring
Paul McGann
as the Doctor, is being aired as part of the network's ongoing series
Doctor Who: The Doctors Revisited
marking the show's 50th anniversary, and will be broadcast following a documentary at
8pm ET/PT
in which current showrunner
Steven Moffat
and
Daphne Ashbrook
, who played Dr Grace Holloway, and
Yee Jee Tso
, who was Chang Lee, are among those examining what made the Eighth Doctor unique. They also discuss a new take on the Doctor's old enemy the Master, played in this story by
Eric Roberts
.
Co-produced by the BBC, Universal Studios, 20th Century Fox, and the American network Fox, the story, written by
Matthew Jacobs
and directed by
Geoffrey Sax
, was filmed in Canada and received its world premiere in the country on
12th May 1996
, subsequently being shown in the USA two days later and in the UK on
27th May
, where a dedication to
Jon Pertwee
was added at the end, following his death exactly a week earlier.
Intended as a pilot to revive the show after it ended in 1989, it saw the Seventh Doctor, as played by
Sylvester McCoy
, regenerate into the Eighth. In the story, the Master attempts to take the Doctor's remaining regenerations, plunging the Earth into chaos.
Despite impressive ratings in the UK though, the American networks didn't warm to it and options weren't taken up, with the show plunged back into the wilderness - as far as the TV version was concerned - until the BBC announced in
September 2003
that it would be returning.
The Doctors Revisited: The Eighth Doctor (via
YouTube
)