Sunday, 25 August 2013 - Reported by Marcus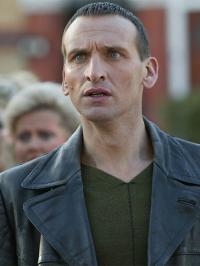 Christopher Eccleston
has paid tribute to Doctor Who in a special message read out to the audience at the British Film Institute's retrospective of the Ninth Doctor's era.
The event is the latest in the BFI's year long celebration of Doctor Who, looking back at each era of the programme. The Ninth Doctor event, held yesterday in London featured a screening of the final Eccleston story
Bad Wolf/The Parting of The Ways
The event panel included director
Joe Ahearne
, producer
Phil Collinson
and actor
Bruno Langley
. Although Eccleston did not attend, he sent a written message which was read by BFI host Justin Johnson.
I love the BFI. I love the Doctor and hope you enjoy this presentation. Joe Ahearne directed five of the 13 episodes of the first series. He understood the tone the show needed completely – strong, bold, pacy visuals coupled with wit, warmth and a twinkle in the performances, missus.

If Joe agrees to direct the 100th anniversary special, I will bring my sonic and a stair-lift and – providing the Daleks don't bring theirs – I, the ninth Doctor, vow to save the universe and all you apes in it.
The BFI has also confirmed that both
David Tennant
and
Paul McGann
will appear live on stage for the look back at their retrospective eras as The Doctor.
The Tenth Doctor event on
Sunday 29th September
will include a screening of the Series 4 two-part finale
The Stolen Earth/Journey's End
, while the Eighth Doctor screening of the
TV Movie
will be held on
Saturday 5th October
.