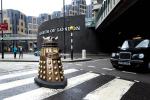 The exhibition marking 90 years of
Radio Times
opened today - with a Dalek taking pride of place at a special display dedicated to the programme that has appeared on the front cover more times than any other.
Cover Story: Radio Times At 90
, which is at the
Museum of London
at
150 London Wall
, takes visitors across the decades from the first radio transmission to today's multi-channel offerings, through landmark broadcasts, archive clips, broadcast artefacts, and original
Radio Times
photography and artwork.
The exclusive
Doctor Who
display - marking the show's 50th anniversary and its long association with the publication - features covers as well as photographs from the
Radio Times
archive.
People can also become a cover star for themselves by posing alongside the Dalek against a backdrop of Westminster Bridge, re-creating the 2005 "Vote Dalek!" cover, which was voted most iconic cover of all time in the Periodical Publishers Association's
Great Cover Debate
in 2008.
Sharon Ament
, the director of the Museum of London, told
Doctor Who News
:
From the TARDIS shaped as a 1960s-style London police box to the many episodes inspired by our capital city, the Doctor is a cultural icon with a strong affinity to London. We are over the moon to have a Dalek as part of the Radio Times 90th anniversary exhibition, along with original artwork and the weird and wonderful Doctor Who covers, which have graced countless editions.
The exhibition is free to go round and is open every day until
Sunday 3rd November
. The museum is open from
10am to 6pm
, with galleries starting to close at
5.40pm
.