DWAS 50th Anniversary Poll
:
The Doctor Who Appreciation Society's 50th Anniversary Poll is now underway. Voting is open to all, with a closing date of 7th August. Full details may be found at the
DWAS website
.
(with thanks to Tony Jordan)
Fourth Dimension - a Doctor Who charity book
:
FOURTH DIMENSION
, by British Who fan
Steven Miscandlon
, collects twelve of his short stories and thirty-one reviews that were first published in various Doctor Who fan magazines between 1992 and 1996. The stories, which feature five of the original seven Doctors, range from short, fun pieces to darker and more thought-provoking tales, while the reviews cover not only a selection of televised Doctor Who stories, but also novels and other spin-off media released in the early nineties. Also included is
"The Gallifrey Incursion"
, a previously unpublished novelette-length story written in 1995.
The author was a regular contributor of fiction, articles and illustrations to well-respected fanzines such as
Capitol Spires
,
Mandria
,
Silver Carrier
,
Metamorph
and
Shadowsphere
, and also had pieces published in a handful of others, including
Game of Rassilon
,
Club Tropicana
,
Circus
and
Borusa's Trousers
.
Perfectly tying in with the show's 50th anniversary, the book will appeal to fans of the classic series, but Steven believes it also provides an interesting snapshot of what Who fans got up to in the lengthy hiatus between the cancellation of the original series in 1989, and the broadcast of the Paul McGann
TV Movie
in 1996.
He said:
It seems that the programme has never been more popular, and yet in some ways its fan base is very different to that of twenty years ago. I hope people enjoy the various writings that make up FOURTH DIMENSION, and that they will give an interesting insight into the frustrating but exciting world of Doctor Who fandom in the early nineties.

The book is available as both a
paperback
and a
PDF ebook
from Lulu.com, and other ebook formats are also available directly from the author. All profits from sales of the book will be donated to UK charity
Unite Against Cancer
, which was set up in 2012 to fund research into new cancer treatments.
(with thanks to Steven Miscandlon)
More of the Best Poems in the Universe
: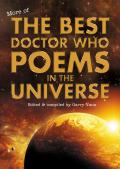 Are you suffering from end of series blues?
Are you twiddling your thumbs waiting for the 50th anniversary?
Are you more poetic than Clara's leaf?
Then put your writing skills to good use.
Volume 2
needs your contributions right now because everything has gone a bit wibbly wobbly, timey rhymey! They can be about any Who related subject, your own work and must be previously unpublished.
We would also welcome any artwork from budding Doctor Who artists out there. Please supply as a 300dpi jpeg. Pictures should be portrait in orientation. Send your entries to
whoems@GJBpublishing.co.uk
. Deadline for all entries is
31st July 2013
.
Those successful will be notified by email and will have the chance to pre-order the book before it goes on general release later this year. The editor's decision is final. Geronimo!
(with thanks to Garry Vaux)
The Doctor & I - a celebration of a fandom 50 years in the making
:
We've all got a "The Doctor & I" story. It's time to tell yours.
23rd November 2013 will mark 50 years of
Doctor Who
as well as 50 years of its accompanying fandom that continues to be a big part of all of our lives. Although all of our journeys with the Doctor start at different times, his ongoing adventures continue to bring millions of fans around the world together as we discuss, debate and share in his epic voyage through through time and space.
As part of
WhovianNet
's 50th anniversary celebrations, we want to how and when your story began.
We're inviting you to submit your own essays (but they're not really essays - essays are NOT cool!) which detail your personal introduction to the
Doctor Who
fandom. How did it all begin for you? What initially got you so hooked? How has your life been affected since? We are particularly looking for stories that are special, moving and, most importantly, unique to you.
In a nutshell, we want to know what being a Doctor Who fan means to YOU - whether you've been following the Doctor since Day 1 or accidentally stumbled upon his recent adventures at 4 in the morning on Netflix, we want to hear from you, in essay/report/diary/story style.
And here comes the really cool bit - the stories will be collated into a special commemorative book which will go on sale later this year. The book will serve as a celebration of the fandom that's been 50 years in the making with - we hope - stories from fans worldwide young and old, as we come together to mark the Doctor's 50th birthday. We also hope to include contributions from those who have worked on the series who will reflect on their own experiences with the Doctor, both on and off screen.
Full details about the project can be found
on our website
.
(with thanks to Dan @ Whovian Net)
DDWRPG Fanzine Issue #020
:
This issue of the
Diary of Doctor Who Role Playing Games
(DDWRPG) features the amazing discovery of lost Doctor Who RPG materials, such as the original proposals for FASA modules and the summary of the never released Gallifrey supplement! Also featured in the issue is an interview with FASA writer
Ray Winninger
, as well as many new articles! Reviews, adventure modules, and all of our standard features are in this Super-sized 172 page issue!!
The issue is available from the
DDWRPG website
.
Our next issue has lots of goodies planned including a look at the "Time Meddlers" Doctor Who RPG Fanzine from the 1980s, an interview with editor Steven Dieter, and many more good items as well! We welcome your submissions.
(with thanks to Nick Seidler)
Celebrate Regenerate - Out Now
:
Lewis Christian reports on the release of his book,
Celebrate, Regenerate
:
It launched at midnight (GMT) on 3rd July and it's now available on
the website
. There are three versions - you can read it online, you can download a free PDF, and / or you can buy a physical copy. All the links are on the homepage of the site.
Now that's all the factual stuff out of the way, here's a personal bit from me to you all:
Thankyou! One word I've said more than any other this past year. A whole year I, and we, have been at this epic project. I remember the night I first had the barmy idea and then it just grew overnight! (There's a bit more detail in my Introduction, found in the opening pages of the book.) Thankyou to all the writers, contributors, artists, companions, interviewees - just everyone, even if you've just spread the word or even just said hi and taken an interest ^_^
I really really hope everyone enjoys it, and I properly hope I haven't missed anyone out. It's been a mammoth task to keep on top with, especially when I've gone it alone at my end for the majority. I sincerely apologise if I've missed your name out or anything - I hope you still enjoy the book <3 This project, for me, sums up how awesome fandom can be when it comes together. We're only a tiny percentage of Doctor Who's *entire fandom* but I think this makes its mark on the history of the show, and I think it's a wonderful addition to the countless other celebrations going on - if I may say so myself. And, of course, this would not be possible without you guys. Yes I put it together, but you all *made* the thing, so a big collective pat on the back! (Or, if you can't reach, just give yourself a big thumbs up.) I won't go on, I'll leave it there. Just thankyou again, everyone, and I hope it's been worth it. From my POV, it's definitely been worth it. I hope many of you decide to purchase a physical copy to reside on your bookshelf and I hope you enjoy flicking through the pages (my advice is to be random, as opposed to reading cover to cover). One last thing - see how many Doctor Who in-jokes you can find :D
(with thanks to Lewis Christian)