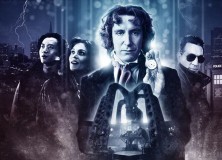 Fans worldwide are invited to relive and discuss the 1996
TV Movie
in the company of two of its stars, in a online event
RegenerEIGHT
.
Daphne Ashbrook
and
Yee Jee Tso
will be providing commentary on the story, via a special event hosted at
Google Hangouts
, which begins at 2000 GMT Sunday. That's
9pm UK time
,
4pm EDT
or
1pm PDT
, and 6am Monday morning for those in east coast Australia.
Daphne Ashbrook played Dr. Grace Holloway in the 1996 film, which starred
Paul McGann
in his only TV appearance as The Doctor and which also featured
Sylvester McCoy
. She'll be bringing her own experience of the film, thoughts on her character, and stories from behind the scenes. Ashbrook also starred in four Big Finish audio dramas including "Doctor Who: The Next Life", Companion Chronicles "Tales from the Vault" and "Mastermind".
Yee Jee Tso played Chang Lee in the movie. His Doctor Who connection continued when he played the part of Doctor Goddard in the webcast Real Time produced by Big Finish Productions, the part of Major Jal Brant in the audio drama Excelis Decays in 2002 and the role of Warrant Officer Charlie Sato in 2011′s Tales from the Vault.
The couple will be joined by Doctor Who Podcaster
Ken Deep
and former editor of Doctor Who Magazine and author of the novalisation of the story,
Gary Russell
To participate viewers need to have their own copy of the movie to watch. The commentary and chats will be launched from
Google Hangouts
on Air. Anyone with any Google account: YouTube, Gmail, G+, can participate. The event will also be simulcasting on
YouTube
and
daphneashbrook.com
. The event also has its own
Facebook
page.